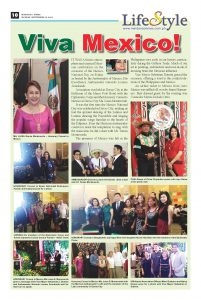 It was a festive atmosphere and a typical Mexican celebration on the occasion of the Mexico National Day on Friday as hosted by the Ambassador of Mexico, His Excellency Ambassador Gerardo Lozano Arredondo.
A reception was held in Davao City at the Ballroom of the Marco Polo Hotel with the Diplomatic Corps and the Honorary Consul to Mexico in Davao City Ma. Luisa Monteverde.
It was the first time the Mexico National Day was celebrated in Davao City, making us feel the spirited dancing of the Latinos and Latinas dancing the Pasodoble and singing the popular songs familiar to the hearts of the Filipinos. Even the Mexican Ambassador could not resist the temptation to sing with the musicians, he did a duet with Mr. Tomas Monteverde.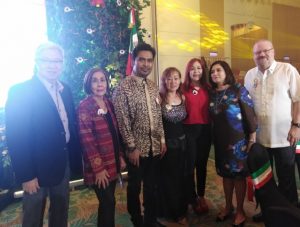 The presence of Mexico was felt in the Philippines very early in our history, particularly during the Galleon Trade. Much of our art in painting, architecture and even mode of dressing bears the Mexican influence.
Vice Mayor Sebastian Duterte graced the occasion, offering a toast to the cordial relations of the Philippines and Mexico.
An airline ticket to Mexico from Aero Mexico was raffled off, won by James Mansanero. Best dressed guest for the evening was Councilor Myrna Dolodo Ortiz.