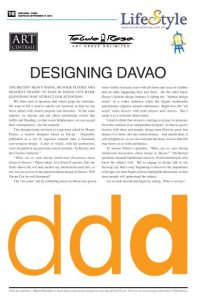 The recent heavy rains, heavier floods and heaviest traffic to date in Davao City raise questions that attract our attention.
We often start to question that which grips our attention.  We want to fill a need to satisfy our curiosity so that we can move about with clearer purpose and direction.  In the same manner, we discuss and ask about unwelcome events like traffic and flooding, so that in our helplessness, we can accept their consequences—for the moment.
This thought leads me back to a question asked by Megan Palero, a motion designer based in Davao.  Originally published as a list of inquiries entered onto a Facebook conversation thread.  A part of which, with his permission, were included in my previous article entitled, "Q-Riosity and the Creative Industry."
"When can we start having intellectual discussions about design in Davao?" Palero asked.  In a flood of queries, that one floated above the rest and caught my attention because this, to me, was an answer to my question about design in Davao:  Will Davao City be well-designed?
The "art scene" led by exhibiting artists in Davao has grown more visible in recent years with all forms and sizes of exhibits and art talks happening here and there.  On the other hand, Davao's fashion design industry is taking the  "fashion design scene" to a wider audience while the digital multimedia practitioners organize annual conferences.  Right now, the "art scene" looks heavier with more players and viewers.  But I mean it as a welcome observation.
I tend to think that design is starting to design its presence from the confines of an independent designer.  As Davao grows heavier with ideas and people, design must likewise grow, but deeper, if it must, into our consciousness.   And maybe then, it will enlighten us  so we can welcome the heavy lemons that life may throw at us with confidence.
To answer Palero's question, "When can we start having intellectual discussions about design in Davao?" Intellectual questions demand intellectual answers. From intellectuals who know the subject well.  But to engage in design talk in our thriving city that's only beginning to discover the importance of design, we must begin with an intelligible discussion, so that more people will understand the subject.
Let us look around and begin by asking,  What is design?

—
About the contributor: Marion Descallar is a Davao-based communication designer for more than half her life now. Her views do not necessarily reflect those of Tabula Rasa's. ^