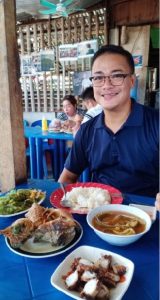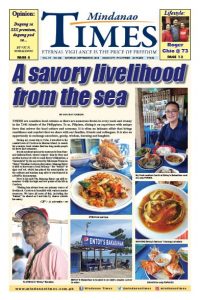 There are countless local cuisines as there are numerous fiestas in every nook and cranny in the 7,641 islands of the Philippines. To us, Filipinos, dining is an experience with unique fares that mirror the local culture and economy. It is often an intimate affair that brings candidness and comfort that we share with our families, friends and colleagues. It is also an opportunity to exchange anecdotes, gossip, wisdom, learning, and laughter.
During my recent trip to Cebu, I traveled to the coastal town of Cordova in Mactan Island, in search for a unique local cuisine that has long made people sit down and commune.
It took me about an hour by motorcycle from Summit Galleria Hotel, where I stayed – then by ferry and another motocycle ride to reach Entoy's Bakasihan, a "karenderia" by the sea owned by fisherman Florencio "Entoy" Escabas. In this modest eatery, Manong Entoy is able to showcase a local delicacy – the "bakasi" or tiger reef eel, which has placed his municipality on the culinary and tourism map after it was featured in a NetFlix documentary.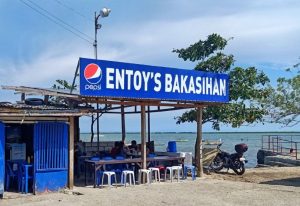 Now in his mid-70s, Manong Entoy can still remember vividly the high and low points of his life in Cordova.
"Fishing has always been our primary source of livelihood. Cordova is bountiful with various marine resources. We have all sorts of fish, including the 'bakasi," he shared as I met him by chance outside his eatery.
In our brief conversation he was able to reminisce how it all started.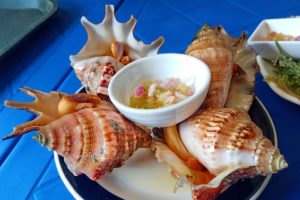 "We opened our humble eatery in 2002. People would come here out of curiosity of the taste of bakasi," he recalled.
Manong Entoy and his friends would catch "bakasi" using a local fish trap called "bantak." They would set it at 6 a.m. along the shallow waters, and return at 6 a.m. the following morning to claim their catch.
Bakasi is served either as "tuwa" (soup) or "linarang" (stew). The latter proved to be very popular among diners. For "linarang," the "bakasi" is sautéed with tomatoes, chili, onions, ginger, bell pepper, and onion leaves, then seasoned with soy sauce, fish sauce and salt, before pouring water for its sauce.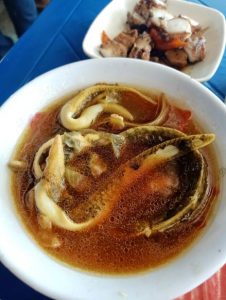 "The good thing about it is that we can ask for additional serving of soup for as much as we want," said regular costumer Greg, a government employee based in Lapu-Lapu City, whom I shared a table with, along with his companions. Believe me, it's tough to find a empty table by lunch time.
Greg said that "bakasi" helps in relieving stress while his friends think it helps heighten their libido. Whatever the medicinal effects may be, "bakasi" is one good local gumbo.
Aside from "bakasi," Mang Entoy's eatery also serves pansit (noodles), paksiw na "kugita" (octopus) and adobo na "nukus" (squid), "guso" (Eucheuma cottonii) and "lato" (sea grapes or Caulerpa lentillifera) salads, grilled bangus (milkfish), "larang" (fish stew), pasayan (shrimp), scallops and other shellfish. A serving of their fares costs only between P30 to P40.
However, it was not smooth sailing and fair winds all the time for Mang Entoy. He recalled one dreadful time in 2013 when an oil spill contaminated the waters of Cordova.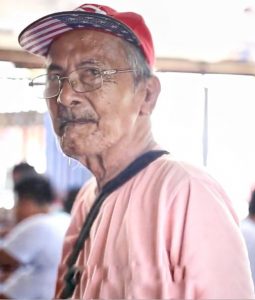 "It did not only hurt our seas but also our livelihood. People started to fear consuming contaminated seafood. We could barely sell our catch," he remembered.
Few months later, the oil floats were cleaned up, and eventually, people started buying marine products in Cordova again.
"I urged people, not only in Cordova, but everyone, to take care of our seas. They are our treasure – our source of living. A clean sea only means more fisherfolks going home with money to buy provisions for their family," Manong Entoy implored.
It is also by supporting local entrepreneurs, like Manong Entoy, that we also get to preserved local culture and cuisines that are unparalleled in form and flavors.
Entoy's Bakasihan is open from 8 a.m. to 7 p.m. from Mondays to Saturdays