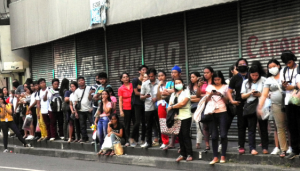 The Peak Hours Augmentation Bus System (PHABS) in the city is now operating 24 hours a day, a city official reported.
"We started the 24-hour operations last week," said City Transport and Traffic Management Office (CTTMO) Chief Dionisio Abude during yesterday's I-speak media forum.
According to Abude, they conducted a survey on the preference of the commuters from Toril and Catalunan Grande area, the two routes currently served by the PHABS.
It turned out, according to Abude, that most prefer to have the PHABS operation extended to 24 hours. He said they endorsed the results to the Land Transportation Franchising Regulatory Board (LTFRB) and it was approved.
However, the deployment of the buses, according to the bus' management, will depend on the volume of the passengers during the non-peak hours.
"They will reduce the number of PHABS if they will observe that there are lesser passengers after the identified peak hours," Abude said.
Previously, PHABS only operated from 6:30 a.m. to 9 a.m. and 5 p.m. to 8 p.m.
There are four PHABS units that ply along Toril route and three in Catalunan Grande.
Meanwhile, to augment the lack of public utility jeepney (PUJ) in other areas in the city, Abude said they also deployed temporary buses to some areas such as Mintal, Cabantian, Buhangin, and Panacan that started last Wednesday evening.
Abude also said they are still monitoring on until when will the currently deployed temporary augmentation buses last. He said it will depend if there will still be many stranded passengers bound to the farther areas from the downtown.
Abude was also grateful to the bus operators who responded immediately to the call of CTTMO in order to cater the stranded commuters amid the bad weather condition experienced by the city in the past days.
The routes for the deployed augmentation buses are:
Downtown to Panacan/Lasang:
Pick-up point/Start at SM Ecoland, CM Recto near Ateneo and GMall
Towards Cabantian:
Pick-up point/Start at Rizal Street Jollibee, Corner CM Recto/Acacia-Magsaysay Street or STI area.
Downtown to Buhangin:
Pick-up point/Start Anda-Pichon Street (Grand Menseng), CM Recto Street (Aldevinco)
Downtown to Calinan:
Pick-up point/Start at Roxas-Ateneo and Ponciano Rotunda, Corner Quirino and Duterte Streets (near Tapa king) and Bankerohan Overpass.
Downtown to Toril:
Quirino and Duterte (across Tapa King), corner Bonifacio and Ponciano, Roxas Avenue (Aldevinco). (With Brendan Luspo/Intern)
By Julianne A. Suarez
and Samantha T. Burgos