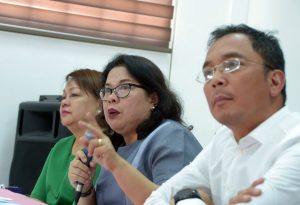 The Department of Health recorded 44 suspected cases of Leptospirosis in the Davao Region since January this year.
Four of the victims died.
Health Regional Director Dr. Anabelle Yumang said cases were reported in Compostela Valley with 12 cases (1 death); Davao City with 17 cases (3 deaths), Davao del Norte with 13 cases, Davao del Sur and Davao Oriental with one each. Davao Occidental had no reported case.
"Those who are exposed to flood waters should go to health centers" Yumang said.
During rainy season, Leptospirosis, which is caused by bacteria of the genus Leptospira, is rampant especially in areas affected by flood.
If untreated, Leptospirosis can lead to kidney damage, meningitis (inflammation of the membrane around the brain and spinal cord), liver failure, respiratory distress, and even death.
"Our city government is active in preventing the outbreak of the disease. Health workers are immediately dispatched in evacuation centers where the flood victims are located," she said, pointing out that prophylaxis is available as preventive measure.
She said that the supply of prophylaxis is enough to cater to those where were affected and that it only takes one dosage to protect those who are vulnerable from acquiring the disease.
Yumang said that people affected by flooding are highly susceptible to Leptospirosis and advised them to immediately seek medical attention from health centers for immunization or if they are sick and show symptoms of the disease.
Medicines are readily available in the health centers and in the offices of the Department of Health.