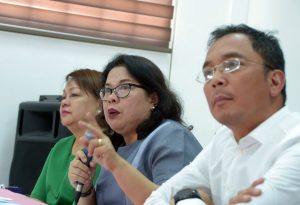 The Department of Health (DOH) has confirmed the death of a meningococcemia patient in the city.
According to DOH regional director Annabelle Yumang, this is the first case in the region so far.
The four-year-old boy died at Brokenshire Hospital last Friday.
The DOH said the 13 other reported cases that patients showed symptoms similar to meningococcemia were not confirmed.
The DOH and the City Health Office assured the public that the situation is under control.
Yumang said the DOH is "continuously coordinating with the concerned individuals for the profile of the deceased patient, including information on the places he visited and people he was in close contact."
"Thorough surveillance, monitoring and follow-up to the people who may have come into close physical contact are being monitored and will be monitored for 10 days after their last exposure to the infected person. To date, none among those who are being closely monitored are manifesting any signs nor symptoms that are similar to the case definition of the disease," the director said in a statement.
She said they immediate gave post-exposure prophylaxis to those who had close contact with the patient including the family members, pupils from pre-school where the deceased child was studying, teachers, and emergency room staff who closely attended the patient.
"A team from the department visited the school and met with teachers and parents of other children to alleviate fears and ensure that they have correct information about the disease," Yumang said.
The DOH has re-iterated the public that the bacteria causing the meningococcal disease is not easily transmitted.
"There has to be a direct contact with discharges from the nose and throat of the infected person for someone to be at risk. It can also be spread through coughing, sneezing, kissing, sharing of food, drink, and utensils," Yumang said.
Health officials reminded the public to be responsible in sharing information especially in social media, they only not alarm the public but also caused confusion and disarray in the whole city.
"Educating the public is one way to prevent the spread of meningococcemia," Yumang said.
By Julianne Suarez
and Samantha Burgos