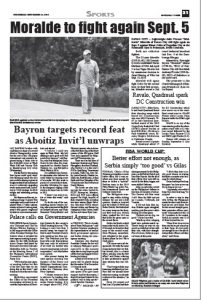 Davao City – Mike Ravalo and Junit Quadrasal found their shooting range which keyed DC Constructions win over MDI Carwash, 79-67 in their knockout quarterfinal match of the 2019 Uraya Forty Basketball Club (UFBC) played Sunday at the UNE2HAI Children's Park basketball court, Elenita Heights Subdivision in Catalunan Grande.
Ravalo scored 18 points while Quadrasal added 17 for DC Construction which now moves on to the semifinal round next to GJAPS Pirates while Lorejo Farm Experts battle the SBM Light Pombo.
GJAPS is on top of the team standings after the elimination round with a 6-2 win-loss record followed by the Lorejo Farm Experts (5-3) and SMB Light Pombo (4-4).
Games will resume on Sunday, September 8. (Jon Develos)