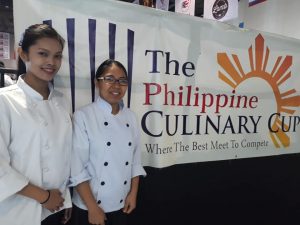 Students of the Institute of International Culinary and Hospitality Entrepreneurship (ICHEF) – Davao City and the Joji Ilagan International School for Hotel and Tourism Management (JIB-IS) – General Santos City sent 10 students as delegates and participants to the country's biggest and most prestigious food competition, the Philippine Culinary Cup 2019 on August 7 to 10, 2019 at the SMX Convention Center, Pasay City, Philippines.
The Philippine Culinary Cup is a culinary competition that provides Filipino chefs an internationally-recognized platform to hone their skills and showcase their talents in the culinary field.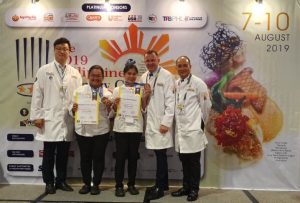 It is endorsed by the World Association of Chefs Society, establishing the highest standards in competition guidelines, from its rulebook to its use of quality kitchen stations.
The events of the competition were: US Pork Chinese Style Challenge, Young Chef Challenge, and Green Protein Challenge. Students competed against professional chefs from different hotels and restaurants across the country.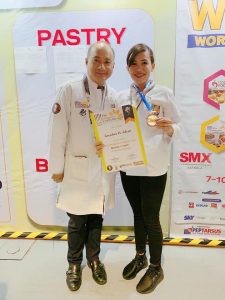 The effort given by the instructors and the participants bore fruits. Nine bronze medals were won by the teams in various events: Sophia Fatima Ena Harrid and Nurol Izzah Buayan – Young Chefs Challenge; Fatima Bitte and Karl Initan – Young Chefs Challenge, and Kim Atillo and Majicel Co – Young Chefs Challenge; Izza Rena Magingsay and Sharlene Canonigo – Green Protein Challenge; Gretchen Adcan- USA Pork Chinese Style and Belle Cases – US Pork Chinese Style Challenge.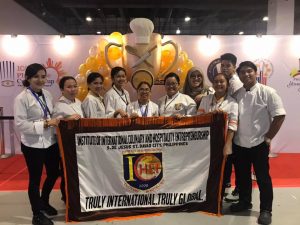 Efforts paid off, thanks to the support of the Joji Ilagan International Schools community, particularly the culinary chef instructors Chef Clinton Gregorio – ASEAN Master Trainer in Food Production, Chef Christian Cruz and Chef Stephen Pollard. Indeed a victorious run for the students to compete with the country's best culinary talents.