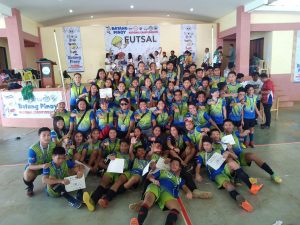 Puerto Princesa, Palawan – Muay Thai athletes powered Davao City's last charge which wrapped up its performance on a third place finish in the overall tally at the close of the 2019 Batang Pinoy National Finals, here.
Liz Ivy and Neil Ivan Udarbe along with Johanna Barbero punch in three gold medals winning it in the 10-11 Girls 30kgs, 12-13 Boys 36kgs and 12-13 Girls 36kgs categories, respectively to add on to Davao City's total of 31 golds, 30 silvers and 41 bronze medals as of presstime.
Aside from its three golds, YJ Andrea Pachoro (10-11 Boys 30kgs) and Isolde Adfe Hernani (10-11 Girls 44kgs) added silver medals while Hannah Valerie Banez(12-13 Girls 40kgs.) and Rollynjie Gimeno (14-16 Girls 38kgs) finished with bronzes.
Silver finishers also went to Davao City's Boys 15-under Futsal team which loss to Cebu City, 0-3 in the finals while their female counterparts duplicated that feat next to Pontevedra Negros, 1-3. Its Boys 13-under squad capped a bronze medal to complete their title hunt.
In taekwondo, Ashley Reniedo and Arnold Alesna Jr. stood tall at the winner's podium with golden victories in the girls junior kyorugi middleweight and boys featherweight kyorugi divisions while Kurt Sebastian Velchez wound-up with the bronze medal in the boys featherweight kyorugi class.
Davao City's four-man wrestling team also secured three bronze medals won by Arve Navares (55kg), Carl Mahinay (71kg) and Daniel Nicolei Emiliano (66kg).
Davao City finished its stint this year at third place in the overall tally behind back-to-back champion Baguio City (61-45-70) and Cebu City (36-34-35). Laguna (29-26-18) and Quezon City (26-25-23) ended fourth and fifth, in that order.
Baguio thus went home with P3 million worth of sports equipment from the PSC while No. 2 to No. 5 teams will be given P2.5m, P2m, P1.5m and P1m in the form equipment.