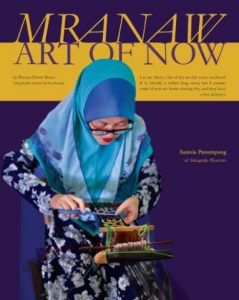 Let me share a bit of joy on this rainy weekend. It is already a rather long story, but I assume some of you are home staying dry, and may have a few minutes.
Some months ago, I was asked by officers at the DTI (thanks ASEC Rosvi Gaetos, Director Marievic Bonoan, and Design Center Director Rhea Matute) to take up a bizarre challenge.
I was to jumpstart the creation of the finest possible objects for the rarefied markets of the world, from the destroyed ground of Marawi and the terribly impacted Lanao del Sur in general.
It meant going deeper into my network of friends to find and work with Mranaw virtuosos of their traditional art, wherever they might be today; many in refugee camps.
It also meant forging collaborations with designers already working at high levels of refinement. And it meant making "goods" that respect tradition, acknowledge its global value, and commence teaching rather than following markets.
From the outset, I could initiate work only with designers who are (this may be unusual) open to the prospect of submerging designer individualism beneath the strength of the traditional artist—who will be the ones called artist, not artisan, in this endeavor.
The designer/manufacturer will clearly play a supporting role; and will be the artisan.
Roles and categories will be reversed.
I called the very skilled and kind Maco Custodio: enthusiastic about learning, not only about traditional art and artists from an old curator like myself, but about the ethics of working with marginalized communities.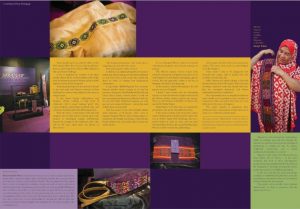 I rang former ARMM Regional Vice Governor Haroun Alrashid Alonto Lucman Jr. to lend his presence to the project. And Abdulhamid Alawi Jrand Glenn Francis Laticse, without whom I could not have put together the Bangsamoro Museum earlier in the year. And Khal Mambuay-Campong not only gave me more contacts in Marawi — ma'am that meal at Babu Kwan is memorable!
And then again to work with journalist Jamela Aisha Alindogan of Al Jazeera, whose work to organize Sinagtala Weavers from among refugees is exceptional. She brought in assistance, cotton threads, friends, whatever she can possibly rally, to sustain the small collective.
It was at Sinagtala Weavers where I reconnected with tapestry, among the rarest of textile techniques of making.
The Mranaw tapestry weavers I knew from nearly 30 years ago have all passed away, and so it was such happiness to meet Samsia Panumpang, tapestry weaver. She had apparently walked in one day at Sinagtala and asked to join the group.
At the moment, Samsia Panumpang is the only tapestry weaver at Sinagtala.
I found 3 more women who are still making tapestry to create the distinctive langkit and tobiran of the Mranaw landap tubular garment, the malong. They are with Maranao Collectibles of Marawi City, operated by Salika Samad.
Saripi Tahir is 1 of 3 sisters who can sometimes be persuaded to take up the most difficult art form.
I also started working with two jewelers, whose names will be properly announced in due course. One was an MNLF fighter from Malabang, who was a jeweler before he took up arms; and now, post retirement from the fray, takes up goldworking again. Pictures to follow of truly fine goldsmithing.
In this project, therefore, there are no anonymous artisans. The names of the artists are acknowledged, as are the designers.
Their work is only to be juxtaposed with materials that require skill to handle well: fine cowhide, crocodile skin, silk.
Folks, I daresay you will be as happy as I am with the first outcome of this DTI project. There are many tweakings of product in the next months and years. But the conceptual framework and human relationships have been established.
Most importantly, these accomplished traditional artists should not be regarded as mere providers of inspiration or labor (no matter how fine), or as raw talent pool at the mercy of designers.
The project intends to remunerate these traditional artists commensurate to their virtuosity as artists, not as unknown crafts(wo)men.
_______________________________________
About Mranaw Tapestry:
Tapestry is a rare technique for constructing a textile by building each weft line through the introduction and then removal of each color thread individually, to continue the line. It requires heightened concentration and a deeply mathematical foundation to creativity.
Tapestry is only made by the Mranaw, Iranun, Sama Yakan, and the Tausug — in the entire Southeast Asia. Each of these ethnolinguistic groups execute tapestry differently. For the Mranaw, the malong they call landap are joined by narrow panels: the tapestry-woven lakban and tobiran.
In the past, only silk was used, and antique examples are exhibited in this platform to show the extraordinary refinements of this art. Few Mranaw weavers remain who know tapestry.
This project seeks to provide a new economic infrastructure for them to persevere, with the dignity they deserve.
_______________________________________
About the project:
The project to produce "MRANAW Art of Now" for DTI was undertaken by the author, Tamara Bañez as curatorial assistant, Rosalinda Caliao as production supervisor, and Marion Descallar as graphic designer.
_______________________________________
About the writer:
Marian Pastor Roces writes about the various ways in which varying societies have deployed the concepts of culture, nation, and identity, and how these concepts fuse or clash upon the contact of these different societies. She has approached this subject from a variety of perspectives, including a long-term study of textile traditions of island Southeast Asia, culminating in the seminal book, Sinaunang Habi: Philippine Ancestral Weave. Pastor Roces's textile scholarship is specifically directed at gaining an understanding of the impact of international museum practices on so-called ethnographic artifacts, with a close view of asymmetrical power relationships. She also takes a keen view of such relationships in studying the difficult links and disjunction between what is thought to be traditional art and what is thought to be contemporary art.
by Marian Pastor Roces
(Originally written for Facebook)