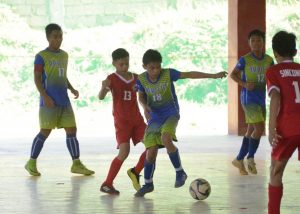 Puerto Princesa, Palawan – Two more gold medals were added to Davao City's medal count as it stands at second place in the overall medal tally as of 12 noon, Friday (August 30) in the ongoing 2019 Batang Pinoy National Finals, here.
Wushu bets Jahaziel Care Barbero and Mikko Camingawan shone bright for Davao City that totaled its medal count with 27 golds, 22 silvers and 29 bronze medals, lagging behind overall leader Baguio City which sports a 40-31-42 tally as of presstime.
Barbero outplayed Mary Lorie Metro of Pangasinan while Camingawan bested Chad Vincent Gomez of Cebu in the girls and boys finals, respectively played at the Holy Trinity University covered court. Their teammates Kate and Sandi Beekhuizen also had their share of adding to Davao's medal count with a silver medal each.
In beach volleyball over at the Blue Palawan Resort, the pair of Khalia Sinsuat and April Joy Locaberte foiled its bronze medal bid losing to Cebu City, 12-21, 15-21 while in the boys futsal event played at the Western Philippines University, Davao City led by Karl Francis Sumampong loss to Negros Occidental on a 1-3 count in the semifinal round.
Davao City hopes to maintain its hold at overall second spot onto the final day of action on Saturday (August 31).
Trailing at third is Quezon City (22-22-21) while Cebu (21-28-22) and Laguna Province (18-19-16) are at fourth and fifth, respectively.