Puerto Princessa, Palawan – Young martial artists stole the limelight which boosted the city's bid for an overall victory on Wednesday, August 29 as hostilities of the ongoing 2019 Batang Pinoy National Finals continue at separate venues, here.
Arnis bets hauled five gold medals while karateka Sam Cartagena of AAK-Davao added another first place finish as Davao City now stands at second place in the medal tally as of 10 a.m. with 13 golds, 12 silvers and 14 bronze medals lagging surprisingly behind Cotabato City which had them standing tall with a 14-3-1 gold-silver-bronze medal count.
Arnis had its golden moments at the Robinsons Place Palawan Activity Center from Ayesah Mae Tomakin (Cadet A lightweight 10-12 years-old), Sherhalee Bulaso (Cadets B lightweight 10-12 years-old), Julia Cassandra Sarate (Cadet A lightweight 7-9 years-old), John Clefford Anajao (Cadet A lightweight 7-9 years-old) and John Lloyd Calubag (Junior lightweight 13-15 years-old).
Cartagena, on the other hand, lived up to his billing as one of the city's fastest rising karateka when he outplayed his above 75kgs. Paranaque kumite counterpart on an 8-2 count for the gold medal over at the SM City Puerto Princesa.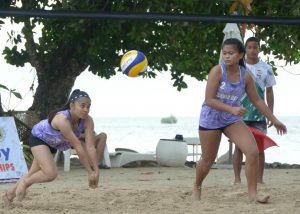 "He played his best and we are proud of him," said Karate Pilipinas Federation Inc. and AAK (Association for the Advancement of Karatedo) Davao Chapter chief instructor Rommel Tan.
On the other hand, Davao City' s beach volley squad having Khalia Sinsuat and April Joy Locaberte marched onto the semifinal round after beating host Puerto Princessa in yesterday match, 22-18, 22-20 at the Blue Palawan Resort. They face defending champion Negros Occidental in the semifinal round with high hopes on making it to the finals.
The pair of Maria Francesca Denise Almazan-Khea Montañes which comprises the city's girls doubles badminton also had their share of marching on to the next round at the ESJ Badminton Court when they outplayed Cadiz City, 21-10, 22-20 for a trip to the finals.
Pasig City is currently at third with 12-22-9 gold-silver-bronze medal count while former leader Cebu City (12-16-17) and Laguna Province (12-16-9) are fourth and fifth as of presstime, August 29 to complete the top five medal tally.