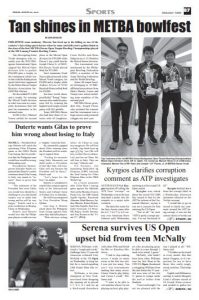 Philippine team mainstay Merwin Tan lived up to his billing as one of the country's fast rising sports heroes when he came and delivered a golden finish at the close of the first METBA Davao Open Tenpin Bowling Championships played at the SM Lanang Premier Bowling Center.
Tan, the reigning Asian Youth champion who recently won the 2019 Philippine International Open capped the Mixed Open division title to pocket P60,000 plus a trophy in the tournament which was in line with the Kadayawan sports festivities organized by the Metro Davao Tenpin Bowlers Association Inc. (METBA-Davao).
He also added P15,000 and a trophy for winning the Mixed Youth division in what was seen as a complete dominance that left past his teammates in the national team.
ACBI-Cebu's Manuel Nierra settled for second place in the Mixed Open division for P30,000 while Davao's top youth bowler Joseph Flores Jr. of METBA-Davao Youth placed third for P15,000.
Tan's teammate Norel Nuevo placed second in the Mixed Youth category for P8,000 and a trophy while Andrea Alvizo of STAI Bacolod-Prima settled third for P4,000.
Six-time world champion Rafael "Paeng" Nepomuceno also made his presence felt by winning the highest team single scratch game with 265 pinfalls.
Team METBA-Davao also had their share of victories with Al Langkuno, Cesar Delfin and Rene Dalayon on a 1-2-3 finish in the Mixed Senior division.
The tournament was sanctioned by the Philippine Bowling Federation (PBF), a member of the Asian Bowling Federation and the World Bowling.
Some 80 tenpin bowlers belonging to 10 PBF-affiliated associations from Metro Manila, Luzon and Visayas saw action including some members of the national pool METBA-Davao president Atty. Joseph Flores who awarded the winners said the tournament was a huge success and promised a bigger one next year.