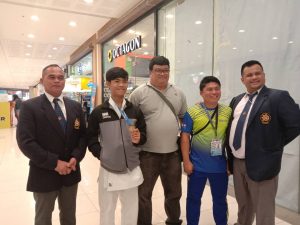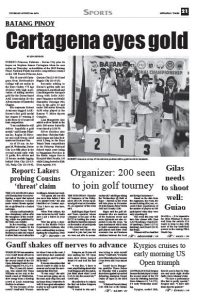 Puerto Princesa, Palawan – Davao City pins its hopes on Stephen James Cartagena when he sees action on Thursday as hostilities of the 2019 Batang Pinoy National Finals karatedo competitions resume at the SM Puerto Princesa, here.
The 15 year-old Cartagena from Brokenshire College will see action in the Boys Cadets +75 kgs division with high motivation of adding another gold for the Davao-based AAK (Association for the Advancement of Karatedo) Chapter.
His teammate Robert Avancena bagged AAK-Davao's first gold medal last August 27 winning it in the Boys 12-13 years-old kata competition.
"I am confident he will deliver hopefully a gold medal," said Karate Pilipinas Inc. Region XI Director and AAK-Davao chief instructor Rommel Tan.
As of 10 a.m. on August 28, Wednesday, Davao City is at fifth place in the overall medal tally with 11 golds, five silvers and 12 bronze medals lagging behind Cebu City (12-15-16), Pasig City (11-16-6), Quezon City (11-10-5) and Baguio City (11-6-13).
Recently adding to Davao's golden tally are swimmers Lora Micah and Liaa Margarette Amoguis along with Jodie Adrianne Tangtatco and Maiki Samantha Gonzaga who won in the girls 15 and under 200-meter freesyle 4×50 relay played at the Ramon V. Mitra Sports Complex.
Liaa Margarette also added a silver finish in the girls 200-meter butterfly event timed at 2:38:70.
Silver finishes also came from Christian Nathaniel Angus and John Roderick Litang in the Boys Tennis Team competitions at the Palawan National School tennis court losing to Pangasinan Province in the finals. Angus loss to Exequiel Mari Jucatin, 2-8 while Litang bowed to Kirk Dion Agustin, 6-8.