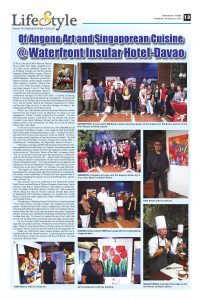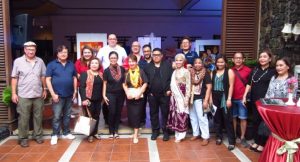 It was in the mid-1980's when my Manila Times editor, Tess Mapa, assigned me to do a story on the celebrated Angono artist Perdigon Vocalan's art and his popular restaurant, Balaw-Balaw. Angono, Rizal, is considered the (Contemporary) Art Capital of the Philippines. The town is proud of it's famous National Artists namely muralist Carlos Modesto "Botong" Villaluz Francisco (1912-1969) and master composer and music maestro Lucio D. San Pedro (1913-2002). On the other hand, Angono's respected and beloved painter/sculptor/restaurateur Perdigon Vocalan (1945-2001), a student of Botong Franciso, was known for his pioneering ecological art. The profound Professor of Art Studies of the University of the Philippines (Diliman, Q.C.) and the former Head of the National Commission for Culture and the Arts Felipe de Leon, Jr. describes Perdigon Vocalan as "the quintessential Filipino contemporary artist.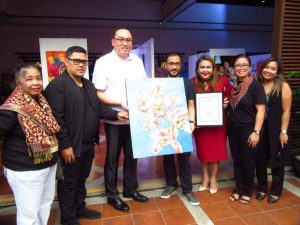 When I got a last minute invitation from the Waterfront Insular Hotel-Davao last August 23 for an afternoon of Angono Art and Singaporean Cuisine, I readily accepted for two reasons. One was that among the Angono visual artists was Joy Vocalan-Cruz whom I wanted to ask about Perdigon Vocalan; and the other artist I was hoping to talk to was actor/painter Jao Mapa, the son of my Manila Times editor, Tess Mapa.
It was such a joy to meet Joy Vocalan-Cruz who identified herself as the niece of Perdigon Vocalan. I was surprised when the friendly artist told me that her uncle passed away in 2001. "Perdigon Vocalan's artworks have become more expensive in the art market. So if you have some, please keep them as they have become valuable," she told me. I have one of Perdigon Vocalan's aswang series and the other is a female nude. Unfortunately, Jao Mapa didn't make it to Davao.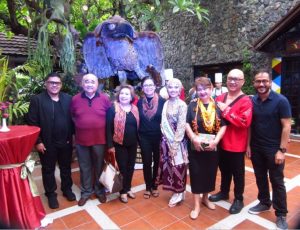 Delivering a message on behalf of the Angono artists whose works were exhibited at the hotel lobby, Joy Vocalan-Cruz mentioned that the beautiful paintings on exhibit were from the Angkla Art Gallery which is also known as "The Artists' Haven of the East" in Angono, Rizal. "We are overjoyed to have been given this opportunity to exhibit our works for the first time in Davao City…Angono artists are homegrown. We belong to families of generations of artists that record Philippine history through their works…We create and build our own galleries and museums in our beloved hometown of Angono. And to this day, our art is kept alive on our town's walls," Joy Vocalan-Cruz said with pride.
"The Angkla Art Gallery aims to promote the craft of the town's emerging artists; and encourage interaction within the art community. The artists' recent exhibitions in Manila and Cebu inspired them to continue propagating the Angono Art across the Philippines; and this time in Davao City.
The artworks that were exhibited at the Waterfront Insular Hotel-Davao included those of Dolpee Alcantara, Bong Anore, Aaron Bautista, Dino Blanco, Michael Blanco, Nogie Blanco, Totong Francisco, Jao Mapa, Nani Reyes and Joy Vocalan-Cruz. The ceremonial ribbon cutting was done by former Councilor Susabel Reta, Hiyas sa Kadayawan 2019 Nurainie Ampatuan, Joy Vocalan-Cruz, Nogie Blanco, Nani Reyes of the Angkla Art Gallery, GM Bryan Yves Lasala and Jennifer Romero.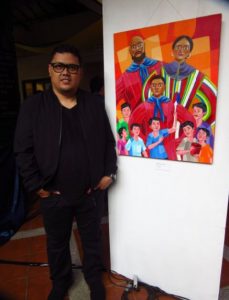 That afternoon, Waterfront Insular Hotel-Davao's newly launched "Crazy Rich Flavors of Asian Cuisine" was sampled by the lucky guests. Waterfront Hotels and Casinos' Singaporean Chef Alan Chan demonstrated before the audience how to cook some traditional Singaporean dishes like laksa, chili crab and prawns on mantao, Hainanese chicken, chicken curry, shredded beef rendang, and braised pork belly on deep fried tofu. For dessert to counter the spicy food, chef Alan served sago pudding with coconut milk and palm sugar, among others.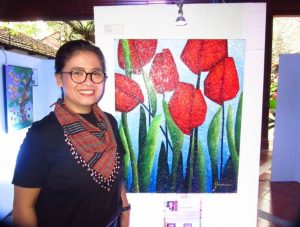 Oh yes, Executive Chef Giovanni Sias was on hand to present the expertise and professionalism of Waterfront Insular Hotel's culinary team. Please do savor the rich flavors of Asian cuisine at Cafe Uno by Chef Alan Chan ad Chef Giovanni Sias which ends this September 30.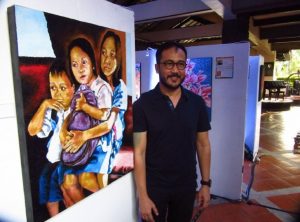 Thank you, GM Bryan Lasala, Jennifer Romero and Eva Ces T. Gamalong for the last minute invitation. I truly enjoyed the encounter with the Angono artists and savored well the rich flavors of Asian cuisine by chef Alan Chan.