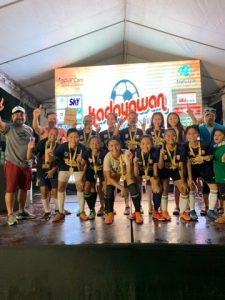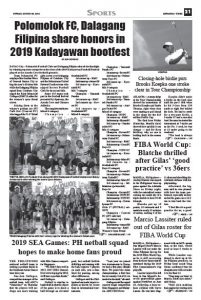 Davao City – Polomolok Football Club and Dalagang Filipina shared the limelight by winning separate categories at the close of the 2019 Kadayawan Football Festival played at the Azuela Cove football grounds.
Team Polomolok FC outplayed the GenSan Wave of General Santos City to bag the men's division title while the Dalagang Filipina squad from Cotabato City edged the Rizal Memorial Colleges (RMC) Ladies for the women's open futsal crown.
Joining them at the winner's podium are JPT Café Kat (Comval FC) bagged the U-17 futsal girls crown over Dalagang Filipina of Cotabato C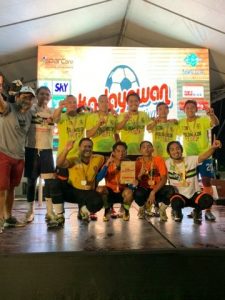 ity and the Nabunturan United Parents/Coaches team who nipped Rovers Football Club for its second title.
Some 155 teams took part in the football festival presented by Sparcorp, the Azuela Cove and Chronos Athletics.
The complete results are:
Mixed 6 category
Champion – Southshield FC
1st runner up – RMC
2nd runner up – Ateneo GS
3rd runner up – Koronadal FC
Mixed 7 category
Champion – Tamasak Panabo
1st runners up – RMC
2nd runners up – Rovers FC
3rd runners up – Southshield FC
Mixed 8 category
Champion – Tamasak Panabo FC
1st runner up – Rovers FC
2nd runner up – Nabunturan Yoyo FC
3rd runner up – Koronadal FC
Mix 9 category
Champion – Southshield FC
1st runners up – RMC
2nd runners up – Tamasak Panabo FC
3rd runners up – Amigos United FC
Mixed 10 category
Champion – NUFC
1st runner up – RMC
2nd runner up – Hyenas FC
3rd runner up – Panabo united FC
Mixed 11 category
Champion – Rovers FC
1st runners up – Nabunturan United FC
2nd runners up – RMC
3rd runners up – Crocs FC
Boys 12
Champion – TCPU FC
1st runners up – Koronadal FC
2nd runners up – Maco FC
3rd runners up – Southshield FC
Boys 13 category
Champion – Rovers FC
1st runners up – Nabunturan UnitedFC
2nd runners up – Maco FC
3rd runners up – Mt. Matutum (polomolok)
Boys 14
Champion – Rovers FC
1st runners up – NUFC FC
2nd runners up – TCPU FC
3rd runners up – Davao hyenas FC
Girls 17 (FUTSAL) category
Champion – Comval FC (JPT cafe kat)
1st runner up – Dalagang Pilipino
2nd runner up – Ateneo HS
3rd runner up – RMC
Women's Open Futsal
Champion – Dalagang Filipina (Cotabato city)
1st runners up – RMC
2nd runners up – Ateneo HS
3rd runners up – Ateneo Senior high
Men's Open
Champion – Polomolok FC
1st runners up – Gensan wave
2nd runners up – Crocs FC
3rd runners up – Black Knights FC
Coaches Parents category
Champion – Koronadal FC
1st runners up – Rovers FC
2nd runners up – Southshield FC
3rd runners up – RMC bulldogs