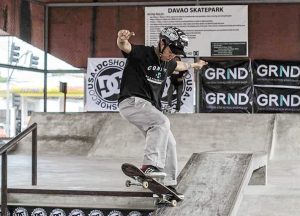 Iligan City's Boyya Go combination of smooth airs and technical tricks put him solidly above the rest, earning himself as the first champion of the first DC x Grind Kadayawan skateboarding competition held last Aug. 17 at the newly opened skate Davao Skate Park in Agdao.
Go garnered an official score of 32.66 for the advanced category. Davao City's Mark Calvo, just 3 points shy from Go, emerged second, with Cagayan de Oro's Chokie Calingin closing in at third place.
Meanwhile, in the intermediate category, participated by budding skaters age 9 to 17 years, Davao's Sonito Austino Jr. led the trail with a score of 31.99, followed by Gerard Villanueva of Cagayan de Oro and Dave Gatchalian, the youngest player, placing third.
Skilled skaters from Polomolok, South Cotabato, Tagum City, Dujali, Sto. Tomas and Dujali, Davao del Norte, General Santos City, Kidapawan City, Mati City, Iligan City, and Cagayan de Oro and Davao City competed in the historic skating competition organized by DC and Grind, in partnership with Davao Skate Council and Davao Digital Influencers, Inc.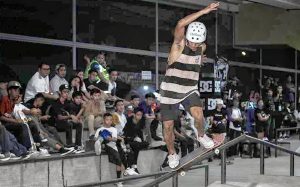 "The competition held many firsts – the first to be held during Kadayawan, the first to gather top-notch Mindanawon skaters, and the first to be held at Davao Skate Park. It is also the first to use a street league format scoring system, Boardrlive," said Primer Group of Companies cluster sales head Maria Estrella H. Sanchez.
During the competition, each player was given 60 seconds to do runs and tricks utilizing the different obstacles in the skate park. Points are given according to the difficulty level of his routine.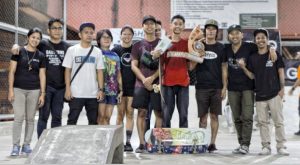 Their style, speed, consistency, trick selection, and originality were also meticulously scored by respected Manila-based skater and judge of SEA games pre-qualifications June Castor, who was head judge, along with Kagay'anon skater Dalton Bautista and Dabawenyo skater Joey Betita.
"The tricks and clean runs of the skaters, add to that the amazing flights and tricks demo of guests skaters Erwin Jadraque of Hawaii and Quilla skaters from Manila were simply jawdropping", Sanchez shared to this writer.
The first DC x Grind Kadayawan Skateboarding Competition was also supported by the City Government of Davao through the City Sports Development Division, Cebu Pacific, Selrahco Management and Consultancy services, Monde Nissin, Stance, Davao Adventure X, Stance, Inkprint ATBP, and Eunice Quillantang for the Boardlive scoring system.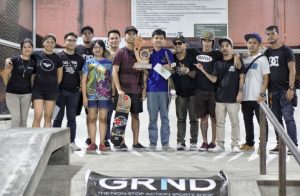 "We aim to create a verifiable record for all participants that may be used for endorsement in national and international event," Sanchez added.