Davao City – The Sports For Peace: Children's Games an inter-barangay sports program of the Philippine Sports Commission is set to have its Mindanao activity in six venues starting this weekend.
"We will be having a series of sporting activities for the Sports For Peace: Children's Games starting this weekend. We focus on children ages 8 to 12 years-old, allowing them to play," said PSC-Philippine Sports Institute (PSI) Mindanao Chapter Head Ed Fernandez in yesterday's Davao Sportswriters Association (DSA) Forum at the SM City Davao.
Following the mandate of President Rodrigo Duterte to bring sports to the countryside and to give priority to the children and youth, the PSC has engaged local governments, faith-based institutions and organizations, and private agencies to make sports the centerpiece of their programs.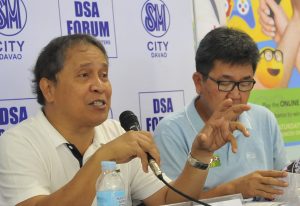 "The Sports For Peace: Children's Games is an idea crafted by PSC Chairman William Ramirez and his team of consultants at the start of his term," said Fernandez who added that Ramirez wants all the children to play because they "are the real gold and that's their basic right, the right to play.
Starting August 23 and 24, the Sports For Peace: Children's Games will be in New Bataan, Compostela Valley; Tamugan, Province of Davao del Sur on August 30 and 31; Tawantawan, Waan on August 31 to September 1; Malita, Davao Occidental on September 6 and 7; Agdao, Davao City on September 20 and 21 and at Maragusan, Compostella Valley on September 27 and 28.
Aside from the actual Children's Games which will have multiple sporting events, the Sports for Peace Children's Games will also have the training of the Ate and Kuya youth volunteers who are assigned to handle the children during the Games.
Some 300 to 500 kids are expected to join in each of the scheduled venues. T-shirts, food (2 snacks and 1 lunch) and sports equipment used during the activity will be provided by the PSC.