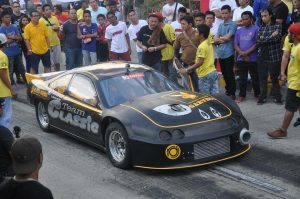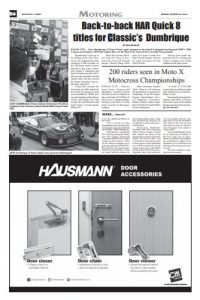 Davao City – Gary Dumbrique of Team Classic again emerged as the Quick 8 champion leaving past DMT's Miki Cong on last Sunday's 2019 Hot August Races at the Speed City track of the Crocodile Park grounds.
Dumbrique lived up to his billing as the city's fastest on his chopped-top entry clocking 6.368 seconds on the 250-meter track to crown himself as this year's champion Quick 8 champion and back-to-back wins since 2018. He was also awarded with the fastest entry and also earned the Sonny Gonzalez Cup trophy plus cash prize.
Cong who crossed the finish line at 6.988 settled for the runner-up honors as both were awarded by Willie Torres and members of the Davao Classic and Sports Car Club along with Josef Sanchez and Junie Samsi of Total Quartz Motor Oil.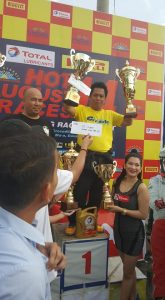 Peter Sia of team Driftech took the Class A division title on top off Ground Image's Benjie Pang while Jeric Al Layan of team Vee Dub bested Eugene Austria of team Afrotech for the Class B title.
Austria first made his presence felt by winning the Class C category over Clyde Jardinel in the early races.