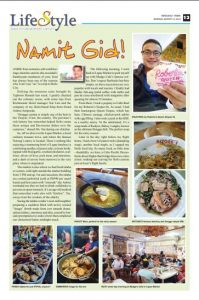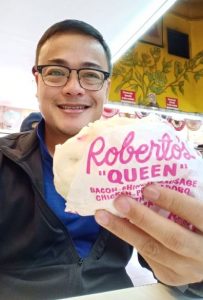 Aside from centuries-old world heritage churches and its alta sociedad's flamboyant residences of yore, food has always been one of the reasons why I can't say "no" to a trip to Iloilo City.
Defying the monsoon rains brought by Typhoon Hannah last week, I gutsily checked out the culinary scene, with some tips from Richmonde Hotel manager Nat Lim and the company of my Iloilo-based Silay-born friend Anbrei Antiporda.
"Ilonggo cuisine is simply one of the best in the Visayas, if not, the country. The province's rich history has somewhat helped Iloilo create these unique and flavorsome dishes over the centuries," shared Ms. Nat during our chitchat.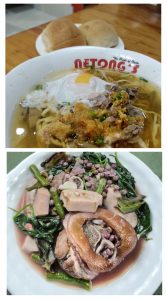 So, off we drove to the Lapaz Market, a local culinary treasure trove, and where the famous Netong's eatery is located. There's nothing like enjoying a simmering bowl of Lapaz batchoy (a comforting medley of pancit miki, in bone broth, topped with fried garlic, crushed chicharon, scallions, slivers of liver, pork meat, and intestines, and a dash of savory bone marrow) in the very place where it originated.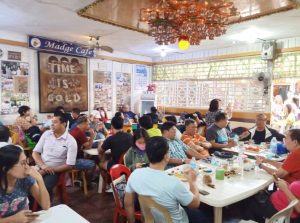 The market is also where we had fresh talaba or oysters, sold right outside the market building from 5 PM and up. Fat and succulent, the talaba are cooked parboiled (sold at PhP40 per email basin) and best eaten with "sinamak" dip. Anbrei reminded me that we had to drink softdrinks to prevent an upset stomach. It's an age-old method that somewhat works also with "kinilaw". Yes, aways trust the wisdom of the elderly.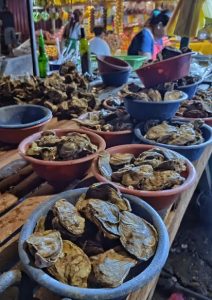 Seeing the talaba vendor's next stall neighbor preparing a cauldron filled with newly cooked "linaga" (broth made from cow innards (heart, spleen,kidney, intestines and skin, soured by batuan) prompted us to order a bowl that completed our cholesterol-laden midnight snack.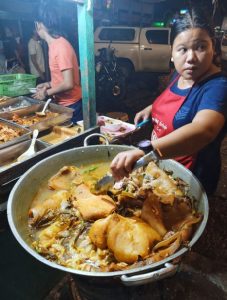 The following morning, I went back to Lapaz Market to perk myself up with Madge Cafe's famous coffee. Don't expect Starbucks but their simple, no fuss concoctions are very popular with locals and tourists. I finally had Media Tab-ang (mild coffee with milk) and pan de ciosa smothered with margarine after queuing for almost 10 minutes.
From there, I took a jeepney to Calle Real for my Roberto's Siopao fix. As usual, I had their humongous Queen Siopao, which has ham, Chinese sausage, chicken-pork adobo with egg filling. I also took a peek at the KBL in a nearby eatery. To the uninitiated, it's a soup made of Kadyos, Baboy, Langka, known as the ultimate Ilonggo dish. The perfect soup for the rainy season.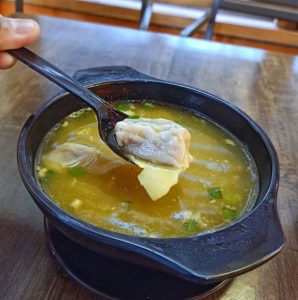 Later in the day right before my flight home, I had a bowl of pancit molo (dumpling soup), another local staple, as I capped my Iloilo food trip. So many food, so little time – thankfully, we have a Cebu Pacific Davao-Iloilo direct flights that bridge these two cities closer, making our craving for Iloilo cuisine just an hour's flight hustle.