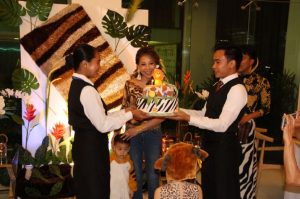 "Everything you see exists together in a delicate balance. As King, you need to understand that balance and respect all creatures, from the crawling ant to the leaping antelope." Mufasa in The Lion King.
"This is my favorite quotation. Everyone who works for me is important; no matter how small and humble their positions are. They continue to contribute to the success of the so called circle of life…That's why I chose The Lion King as theme of my belated birthday party. That is aside from the fact that I love the movie and the Broadway show. I can identify with Mufasa in terms of leadership style in my daily life of managing my businesses," so expressed the lioness spirit in Purita Arsenia "Joji" Ilagan-Bian when she invited "family and close friends that matter most to me" to her 64th belated birthday celebration last August 9, 2019, held at the grand lobby of her IMS I-CHEF institution. And the Lioness Queen instructed me to be the secret judge in choosing the 10 ladies with the nicest animal prints on their outfits.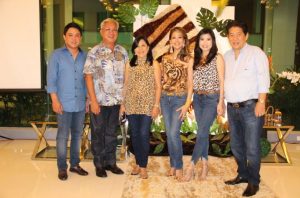 "We give small gifts lang," she told me. But one "small gift" was an Art Deco-inspired necklace with diamonds and semi-precious stones coming from no less than her dear tita Emilia Sorongon vda. de Sitjar. The grand dame of jewellery came in a two piece outfit with zebra stripes; and was accompanied by her devoted son, Emil.
Having achieved success in no small measure, Joji Ilagan-Bian is particularly known for her ability to strongly inspire people to share her passion and advocacy in education and involve them in making positive change happen. "No doubt about it but my palangga is a respected leader in both business and education as she continuously transforms lives especially that of the youth. She truly makes a difference as a true educator, an effective woman leader, and a successful and hardworking business entrepreneur," commented Joji's buena amiga, the restaurateur Lena Benedicto, with whom I shared a table with.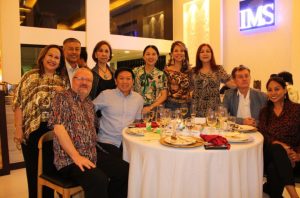 This "babaeng walang pahinga" holds leadership positions in many organizations: President of the Council of Hotel and Restaurant Educators of the Philippines; Treasurer of the Asia Pacific Council of Hotel Educators; Past Deputy Chair of the East ASEAN Business Council; Chairman of the Mindanao Business Council (2000-2008); Past President of the Davao City Chamber of Commerce & Industry; Founding Chair of the Mindanao Technical Vocational Schools Association and Philippine Call Centers Alliance. It's a hard life that Joji leads but this amazing and always well-dressed woman would rather "je vois la vie en rose."
The impact of her services transformed the lives of fellow Filipinos that Pres. Joseph Estrada (1997) and Pres. Gloria M. Arroyo (2005) awarded her Medals of Recognition for her various contributions in business and education.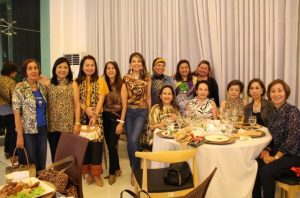 "As a businesswoman-entrepreneur, Joji Ilagan is a prime example of what an empowered woman can do for her family and community," admires the equally admirable Hon. Consul of Hungary Baby Maceda-Montemayor of her dear friend. Joji Ilagan-Bian, the Hon. Consul of Bangladesh herself, has established five hospitality colleges with international linkages: the Joji Ilagan College of Business and Tourism; International School Hotel Management (General Santos City); Institute International Culinary and Hospitality Entrepreneurship (ICHEF); Stockbridge American International School; and the International Management School. These international schools have come to form the network of the JIB International Schools, all of which are offering transnational, international and industry standards, skills-based education and training which allow its respective students to earn certifications that are recognized internationally.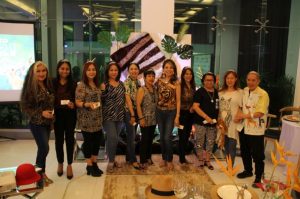 Joji Ilagan Bian has a solid track record in community engagement in the fields of education, business, politics, civic and religious movement that spans more than 30 years. Various institutions have given her awards for her excellence in the field of education and business development. Among these are the Datu Bago Award in Business and Education (1997) which is the highest award conferred by the City of Davao; the Kabalikat Laang Bisig Presidential National Award for the promotion of Development of Technical Vocational Training in the Philippines and for the hundreds of scholarships that her schools have given to the out-of- school youth conferred by the President of the Republic of the Philippines in 1997; the Presidential Service Medal of Merit (2005) conferred by Pres. Gloria Arroyo; University of the Immaculate Conception Centennial Outstanding Alumni Award in Dec. 8, 2005; Patnubay Award in NGO Work for Education (2010); the prestigious Patnubay Award given by Council of Hotel and Restaurant Educators of the Philippines (COHREP); the Mindanao Jaycee LEAD Award (2002); the Outstanding ASEAN Woman Entrepreneur Award given by the ASEAN Women Network (2017); 100 Most Influential Filipina Women in the World Award from Global Filipina Network in Toronto Canada; and the Australian Excellence Award for Alumni of the Year 2020.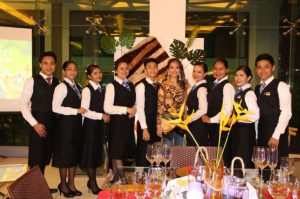 In spite of her countless achievements and commendations, Joji's dedication to continuing her personal advocacy has not waned or slowed down a bit. This lioness' tenacity and entrepreneurial spirit come from the drive to help others as evidenced in her continuous involvement in education, tourism, religious affiliations and business.