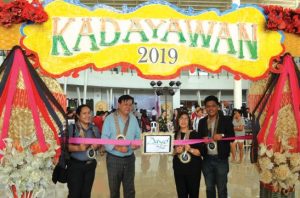 DAYO, a Kadayawan celebration of art, culture and food at Felcirs Centrale, opened on Aug 10, 2019 with a beautifully prepared program: the Davao City National High School Chorale sang our National Anthem and the prayer.
Ben Marfori's performing arts studio did two dance numbers and special song numbers, and our very supportive councilor Pilar Braga ("Braga pa rin." Pilar 4ever) inspired all the artists, art-lovers, other attendees with her speech. The art sale and exhibit showcases the paintings of the YOUNG (Magallanes Elementary Art Club), the STUDENTS (DCHS JHS special program for the arts), the up-and-coming artists (Rolando "Kawing" Pino-on and his G.A.M.A. group), the "BAKASIONISTAS" (Female BJMP Maa-Jail), the artists with special talents (the D. Sipaco Foundation), the all-women artist group (Bai Hinang); Tabula Rasa (Daryl, Brando, Dinky), an artist-debutante Mr. B (John Balchin). The festival of arts, crafts and food (that's CULINARY arts) also features the "SAVE DAVAO GULF" paintings of Ole Johnson (L.A.) Dinky Munda and Mr. B.
DAYO art sale and exhibit will run until August 31, 2019 at the Alfresco, Felcris Centrale, and see the works of Davao visual art talents.

I think the "ART HUNT" is a good example of a creative economy that works. Imagine an ART HUNT operating 365 days on every major street, let's say the ART QUARTER or CENTER of Davao. The elements are basically there: art galleries, food kiosks, performing musicians, demoing artists and artisans — and people MILLING and WALKING around. It is "STREET-WALKING (no, not THAT kind!) NOT a MALL-based enterprise. Reminds me of walking in the "LA RAMBLA" in Barcelona, stopping for coffee or beer, buying a painting from a sidewalk artist, eating lunch at Boqueria,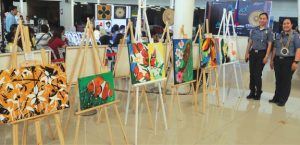 a "market-like" collection of street food vendors, then going to the Museu Picasso and the M.E.A.M. Museum of Contemporary Arts, then ending the WALKING tour at Gaudi's La Sagrada Cathedral.
This is the type of "CREATIVE ECONOMY" we need in Davao. And ART HUNT is a good start. Yes, ART EVERYWHERE, EVERYDAY — AND EVERYBODY HAPPY.
By Dinky Munda, Jr.