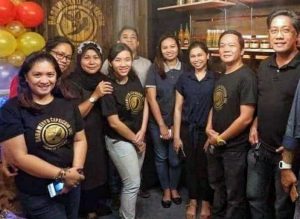 Aside from cacao products, capsicum or chili pepper is also spicing up the trade fair and expo scene in the region, thanks to a group of Dabawenyos who are championing its diverse use.
Dabawenyo Capsicum is a group of local SMEs (small and medium-sized enterprises), composed of nine members, who have one thing in common: the use of chili in most of their products.
This group of local and young entrepreneurs, composed of Russell Servillon (Arkadyo Pepper Sauce), Rovelyn Teves-Aguilae (Pastil Queen), Antoniette Marcelita Cabading (Pedas Gila), Hamida Sibayan (SpiChef), Visa Castillo-Cua (Test Kitchen), Harold Cruz (Tummiebebs), Leo Ramos (GKT Astig Sinamak), and Mary Grace Sebanes (Chilloys Gourmet), was only organized last December and would often meet and work together in trade fairs and expos organized and endorsed by the Department of Trade and Industries.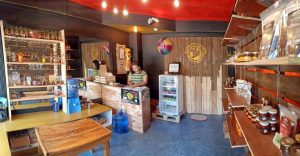 Barely three months old last March, they opened their own store, "Home of Spices" in Dona Seguna Complex along Ponciano Reyes Street.
The ultimate objective of the group is for Davao to be known as a top producer of high-grade chili, a high value product like cacao and banana.
"Since everyone is into the craft, and we all endeavor to come up with unique products, we decided to organize ourselves and opened the store to showcase our merchandise," said Sebanes, who represented the group for this interview.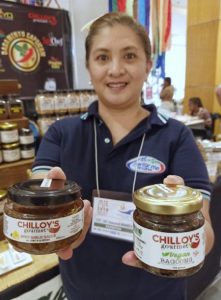 Arkadyo Pepper Sauce specializes in extreme hot sauces, which is "at par with Tabasco or even better," according to Sebanes. They use Bansalan-grown Carolina Reaper, known as the hottest chili in the world.
The group also has Halal products, such as the Kagan-owned SpiChef that produces Halal fruit based hot sauce. Pastil Queen pioneers in selling bottled chicken pastil, usually used as rice topping in Moro communities. Pedas Gila, meanwhile, manufactures Indonesian-inspired products, such as sauces and flavored salted eggs. The owner is an Indonesian based in Davao.
They also cater to vegans with Chilloy's gourmet condiments and sauces. They even have vegan bagoong made from mushroom in olive oil.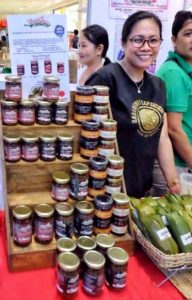 Tummiebebs specializes in fusion snacks and tuna chicharon. A perfect dip for chicharon and chips is GKT, which produces "Astig Sinamak" from suka tuba (coconut vinegar).
KimchiNoy makes Korean food but adjusted to the Filipino palate, while Test Kitchen does unique spreads including their latest Kadayawan offering, durian cheese.
"To avoid conflicts, we have agreed not to come up with same products unless they were produced prior to December 2018. Nevertheless, our individual products have their own characters and markets," said Sebanes.
All in all, they have around 50 products in their inventory.
According to Sebanes, as SMEs, it is easier for them to sell as group especially that their products have one thing in common.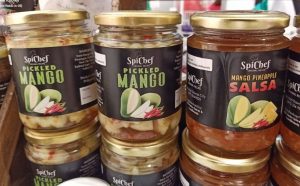 "While we market our own individual brands with our own resellers, we also help each other market ourselves Dabawenyo Capsicum," she said.
DTI has assisted the group through various trainings including the Kapatid Mentor Me Program. The agency is also helping them with the compliance of requirements of the Food and Drug Administration.
"That's direction that that we're treading, to comply with the standards, be registered and licensed so we that can confidently sell our products nationwide and globally as well," Sebanes revealed.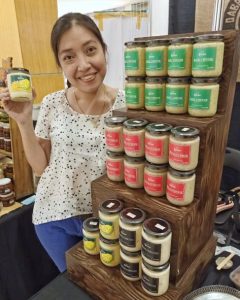 In the works are more Dabawneyo outlets and pasalubong shops inside malls. They are also working on establishing their group into a cooperative. They're just putting things in place before they can accept members.
"Their vision must be in line with ours, and of course, they must have chili products", added Sebanes.