"Threading the Path towards Self-reliance" is the battle cry that has replaced the anguish felt by the Maranaos of Mindanao, rising from the rubles of war caused by the Marawi Seige.
Bringing life, peace and unity to the City of Marawi takes courage and hard work.
During the Kadayawan Festivities in Davao City, Mindanao Trade Expo 2019 featured Habi sa Pagbangon ng Bagong Marawi together with USAID and Plan International, where models paraded outfits designed in Marawi and dances showed that their culture has been preserved, their enthusiasm for renewal of spirit has not faltered, but instead have now grown even more steadfast.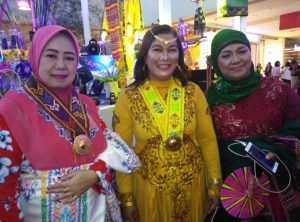 The event was attended by Lauro Tito C. Ilagan – Economic Development Lead, Marawi Response Project, Lanao del Sur Governor Mamintal Alonto Adiong, Jr., Princess Sunshine Amirah R. Magdangal, Asliyah Limbona, Bai Shora S. Sarigala of DXSO Marawi and Mindanao Trade Expo President Rosevic Del Rosario-Sembrano.
Dr. Shahane Macarampat Sumagayan writes "Marawi Seige serves as a challenge for the Maranao People to persist in life after having survived from the tragedy".