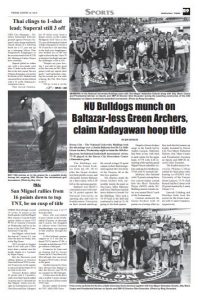 Davao City – The National University Bulldogs took the advantage over a Justin Baltazar-less De La Salle Green Archers, Wednesday night to claim the 34th Kadayawan Invitational basketball tournament crown, 77-70 played at the Davao City Recreation Center (Almendras gym).
The Bulldogs outscored the Green Archers from tip off, 20-12 after the Green Archers lost their prolific scorer and rebounder Justine Baltazar on a knee injury with 4:20 left in the opening quarter.
Baltazar was DLSU's consistent scorer with similar 14 points against the National University on opening day and next to Southwestern University on their second match-up. He scored a huge 23-point output on their third assignment against the University of the Visayas, all in the first two quarters.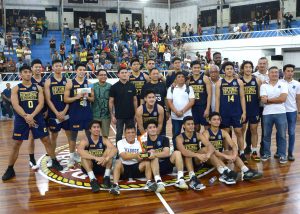 His absence made the Green Archers look vulnerable inside the paint as Issa Gaye, Mike Malonzo and Dave Ildefonso hauled more defensive boards for the Bulldogs. They took a 33-29 lead at the half and continued to lead on 51-50 going to the final quarter.
Despite a Green Archers surge in the fourth led by Andrei Caracut, Ildefonso had them at bay with back to back triples for the upper hand, 67-59 with 4:28 remaining while spritely guard Miguel Ocson sealed the victory canning two freethrows, 73-66 with 52 seconds left.
Idefonso who finished with 12 points noting those two crucial triples earned him the Most Valuable Player (MVP) while NU Bulldog mentor Jamike Jarin was named Best Coach of the Tournament.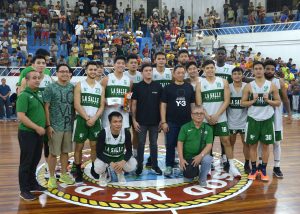 Caracut anchored the Green Archers with 14 points on a losing effort as they took the first runner-up trophy awarded by Davao City Vice Mayor Sebastian Duterte, Atty. Mans Carpio and Presidential Assistant on Sports and SBP-XI director Glen Escandor.
The Southwestern University Phinma Cobras settled for third place after beating co-CESAFI rival University of the Visayas Green Lancers, 77-74. Dyll Roncal led the Cobras with 29 points backed by Lamin Thiam's 15.
Jancork Cabahug and Sheldon Gahi took the scores for the Green Lancers with 17 and 14 markers, respectively.