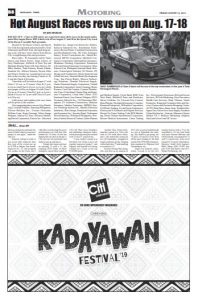 Davao City – Close to 100 entries are expected to show their wares in the much-anticipated Hot August Races 2019 which reels off on August 17 and 18 at the Speed City track of the Davao Crocodile Park grounds.
Hosted by the Davao Classic and Sports Car Club Incorporated and presented by Total Lubricants and Pirelli Tires, the legal drag racing event will have most entries from Davao City it neighboring cities and provinces.
Race clubs – W-Autosports led by Vanni Garcia and Edwin Torres, Team Classic of Gary Dumbrique, Driftech of Peter Sia and Mashado Racing Team with Jem Zamora, Dr. Mike Ababon, Todit Zamora, Ronan Zabala, Jonathan Go, Alfonso Senense, Bryant Abne and Timoy Timtim are considered as pre-race bets in the two-day race having Classes A, B, C and the Quick 8 divisions.
Time trials will be held on August 17 with Class C (9 a.m. to 12 noon), Class B (1 p.m. to 4 p.m.) and Class A (4 p.m. to 6 p.m.) while race proper will be on August 18 with Class C (9 a.m. to 12 noon), Class B (1 p.m. to 4 p.m.), Quick 8 (4 p.m. to 5 p.m.) and Class A (5 p.m. to 6:30 p.m.).
Cash prizes and trophies plus race items will be given to the winners.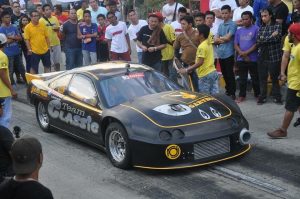 Also supporting the event are Gary Dumbrique, Lemuel Podador, Samsung Philippines, Ulticon Builders Inc., Vicente Floirendo, William Lima, Bong Gonzaga, Motor Image Pilipinas, Johnny Go, Jinyi, Advance Marketing/Petron Corporation, Emicor Inc., Maverick Builders Inc., Image Cars Davao Inc./Subaru, Safecon Industries Inc., Boardsman Enterprises, Boysen Paints, Coastland Construction and Development Corp., DC Tech, Energizer battery, Evson Construction Inc., March Resources MFTG Corporation, Maxbuilt Contractors Corporation, Metropolitan Insurance, Mindanao Trucking Corporation, Paramount Life and General Insurance Corporation, Peter Edward Lim, Philippine National Bank, Reliance Transcription Infotech, RJ Homes, RT Design and Architecture, Sherg Janitorial and Allied Services, Steward Home Development Corp., Sun Flower Realty, Tekwise Technology Solutions, Thunder Electrical Supply, Tomas Electrical Supply Corporation, Vitalab Redmark Corporation, Asian Counting, Bistro Rosario, Care Out Counter, Centum Distribution Corp./Colourland, Charter Ping and Insurance Corporation, Cindy Mae Llanes, ETG Sand and Gravel, Jose Genesis Tubigon, JPCG Tiresmart, Kilovolt Inc., LG Electronics Philippines, LV Ledesma Construction, Malayan Insurance, Marbex Enterprise, MPREG Interior Finishing System Inc., Mueble Fabricant Industries, Phat Garage, Prudential Guarantee and Assurance Inc., Security Bank, Timburana Wood Industries, Whirlpool Philippines, Windows Fashion House of Curtain, Zyther Pharma and Medical Supply, Union Bank, BDO, East West Bank, Rhodwill Parts and Hardware, Davao Goldstar, Go Forward Pest Control, Brim Pharma, Stronghold Insurance Company, Rosemed Enterprises, 98 Kimbin Corporation, 214 Plastic Trading, Crystal Arctic Enterprises, Electroyard It Solutions and Digital Services, Davao City Times Trading, Cebu RTK Marketing, Prince Valiant International Corporation, Biosite Medical Instruments, Litera Trading Inc., Precisionaire Electronics Ref and Aircon Services, JB Tech Marketing, Save Preventive Health Care Services, Rudy Villaruz, Tamlu Enterprise, Kingstech Computer Sales and Services, Games and Garments Shopping Center, AC3F1 Paint Haus, James Arias, Southern Maligaya Taxi, Davao Jovi Auto Supply, Southern Urban Kitchen Inc., Gastron, Mariano's Sports Market VP, J. Bullecer Marketing, Dagatan Sand and Gravel and DC Invest.