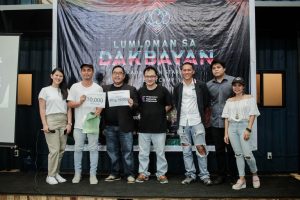 An idea for a 'vertical' farming technique using hydroponics as an alternative agricultural method won first place in the Kadayawan Innovation Camp-Lumloman sa Dabaw 2019, held last August 11.
Louie Roma, an AB Political Science graduate from the University of Mindanao, presented his vertical farming idea "Verde" utilizing off-grid solar power panels, a water pump machine, deep-cycle battery, and grower lights.
Verde is projected to grow 500 heads of lettuce or any agriculture crop within a month in a very limited urban garden space.
Roma will get the support of Lumloman sa Dakbayan's organizers in developing the technology needed for his idea.
Lumloman sa Dakbayan is a startup competition that aims to gather teams of students, developers, entrepreneurs, and innovators in Davao Region to create technology utilizing blockchain, artificial intelligence, big data, analytics, robotics, internet-of-things, and cloud computing in addressing social issues in agriculture, tourism, transportation, environmental sustainability, and disaster risk reduction.
The event was organized through the collaboration of Davao-based Technology Business Incubators (TBIs), government agencies, and the private sector that include University of Mindanao's UMasenso Hub, UPGraDe (UP-MIN), AGILab (USeP), DevCon, DICT and Kadena Hub.
Organizers added that more bootcamps, hackathon and pitching events will be conducted in the city in the coming months to aid more startups commercialize their ideas and technology.