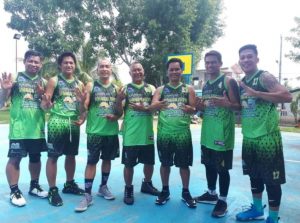 Davao City – Lorejo Mango Farm bagged its fifth win after beating MDI Carwash, 108-105, Sunday in the ongoing Uraya Fortys Basketball Club (UFBC) at the Uraya covered court.
Dale Gahito led the scoring chores with 42 points while Bong Salvador chipped in 14 for Lorejo Mango Farm which stands tall on the team standings with its 5-2 win-loss card.
SMB Pombo-Tonzo shared the limelight by winning its fourth win in six matches beating DC Construction, 102-88 with Opling Ayunan and Benjie Rosalita having identical 23 points.
SMB Pombo-Tonzo is tied with GJAPS Pirates at second place with 4-2.
UFBC Team Standing 3rd Season
Team: W L
1. Lorejo Farm Experts 5 2
2. GJAPS Pirates 4 2
2. SMB Light Pombo 4 2
4. DC Construction 3 4
5. MDI Carwash 0 6