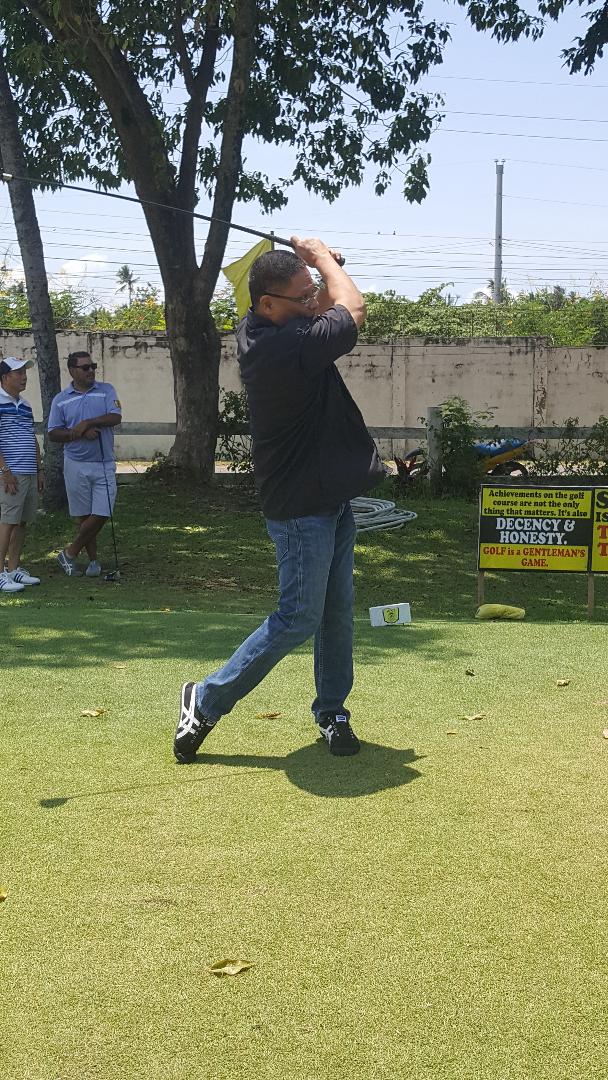 Davao City- The 30th Durian Tee Invitational golf tournament tees off today at the Apo Golf and Country Club.
Apo Golf and Country Club president Joseph Ng along with board of directors Richard Hong, Karloz Alba, Soc Cadayona and Charlie Tan initiated the traditional ceremonial tee off rites yesterday joined by Jinggo Camomot, Roy Geonzon and Fritz Tan of the University of Mindanao Broadcasting Network (UMBN).
Some 250 golfers from Davao and its nearby cities and provinces are seen to join the four-day golfing spectacle which wraps up on August 17, Saturday.
This year's edition of the Durian Tee offers a brand new Ford Raptor, five hundred thousand pesos, a two-seater Yamaha golf cart and four motorcycles (Honda, Suzuki, Kawasaki, Yamaha) as hole-in-one prizes on designated holes per par 3 fairways.
Double barrel tee-off starts will be from 6 a.m. to 8 a.m. and from 10 a.m. to 12 noon on those playdates while the awarding ceremonies will be held at the Rizal Memorial Colleges gymnasium on August 17, Saturday at 6 p.m.
The Durian Tee Invitational golf tournament is in line with annual Kadayawan celebration.
Backing the annual sports spectacle as co-presentors are DMI Medical Supply, Inc. and the University of Mindanao Broadcasting Network (UMBN). Diamond sponsors are Phoenix Petroleum, Motortrade/Motorjoy, Congressman Pulong Duterte, Vital Water, Power Trac, Philippine Amusement and Gaming Corporation (PAGCOR), Inkprint Atbp. Inc. and Anflocor Management Corporation.
Platinum supporters are the JVA Group, Dusit Thani Residence Davao and Maxicare Healthcare while Suntrust Properties Incorporated, Southern Motors Davao Incorporated, Maverick Builders Inc., Alsons Development and Corporation, Hexat Mining Corporation, Suzuki Philippines Inc., Kart Plaza Manufacturing Corporation, the Royal Mandaya Hotel, Cortess Printing Corporation, Rizal Memorial Colleges, Davao Eaglemasters, Gerry Goking, MEDSA and the Philippine Sports Commission (PSC) are gold sponsors.
Silvers sponsors are Continental Industrial Builders & Trading Corp., Seadove Maritime Services, Inc., Felcris Supermarket, The Pinnacle Hotel & Suites, H20 Walton & Company, Jimms Coffee, Angcore Motor Co., Inc./ Mahindra Davao/KIA, Solid Shipping Lines, Sta. Lucia Land, Inc., Davao Fireboard Packaging Plant Inc., Rely Construction, BIDA Security/Valor, The Turf Company, Prestone, The Gentleman's Lounge, Boeing Handling Material Corporation/Sany, Grecco Construction – Estosan Garden Hotel, Mindanao Trucking Corp., Pioneer Insurance & Surety Corp., Santos Land Development Corp., Kisan Lu, Maxan Trucking and Construction, Inc., Ford Davao, RDL, LV Ledesma Construction, Allado Construction, Phil-Japan Worldwide Management Services, Inc., Landbank of the Philippines, Kudos Trucking, Mamay Inn & Resort, Inc., EMCOR, Inc. – Head Office, Luisita Golf and Country Club, Koppel, Inc. and Forest Hills Golf Club.
Bronze supporters are Ivory Printing and Publishing House, Apo-UGEC Security Printing, Mercantile Corp., Deobuild, Inc.- Door 1, Moralidad Bldg., Primeland Pro., Inc., Swiss Deli/ D'Butcher D'Baker, Davao Beta Springs, Inc., R.O. Abella Trade Corp., Minute Burger/LCI Bus, Ace-Specs Airconditioning Services, Philippine National Bank and JS Panabo Agri Ventures, Inc.
Donors are Davao General Hardware, Oscar Grapa, Leyritna, 3M Limestone, D'Erenland Construction, Rodphil, Photodynamic Photocopier and VCC Mak Ventures.