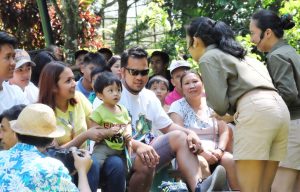 There was silence and awe as Philippine Eagle "Sinag" soared with expected grace and majesty, and, for the first time, unbound and outside its cage in front of a crowd of around 75 spectators for the flight demonstration of the raptors.
For years, visitors of the Philippine Eagle Center in Barangay Malagos, Baguio District are seeing eagles either kept inside their huge enclosures or set on perch as part of the center's educational program.
"Education is still our primary objective for this new activity. Our goal is to come up with activities that will enlighten visitors further about the eagles," said Philippine Eagle Foundation development program manager Andi Baldonado, referring to the soon-to-be launched educational initiative, "Raptors in Flight".
According to Baldonado, it took around 2 years for the center to develop the activity and train the birds, which was disrupted by the center's temporary closure due to the threat of avian flu in 2017. Earlier this year, they also need to give full attention to eagles Geothermica and Sambisig, who were sent to Singapore for the loan program agreement that endeavors to ensure a continued availability of a viable gene pool should unfortunate incidents occur.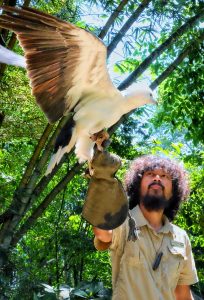 "The birds' welfare are always top priority," she added.
The flight demonstration last Saturday, August 10, was just a preview of the activity that will be officially launched this weekend, August 17. Don't expect the raptors to shoot hoops or ride bikes anytime soon though.
"We want visitors to experience the natural behavior of the birds – no tricks that are unnatural to them. We want them to appreciate their natural behavior, like, how they hunt, fly, feed and interact with nature in an upclose experience," Baldonado explained.
Various raptor species, including the Giant Scops Owl, Mindanao Lowland Scops Owl, Pinsker's Hawk Eagle, Philippine Serpent Eagle, Brahminy Kite, Grey-headed Fishing Eagle and the White-bellied Sea Eagle, are joining Sinag in the flight demo, which will be held twice every Saturday, depending on weather conditions.
"We took the training techniques from falconry. However, instead training them to hunt, we taught them to respond to the our cues, practically, conditioning them," said animal keeper Lohwana Halaq.
Halaq revealed that the 3 year old Sinag was the obvious choice to coach as younger eagles are more viable candidates, being more trainable.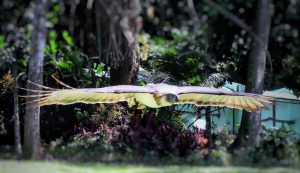 But it's no walk in the park as eagles tend to be more challenging to train among birds of prey.
"The eagles' behavior are difficult to manipulate, knowing they're on top of the food chain. They know they're bigger and stronger unlike smaller birds, that's why training is gradual. We adjust to their liking. If they don't want our presence, then we move back otherwise they'll see it as an aggressive move especially that they're territorial," shared animal keeper Dominic Tadena.
The "Raptor in Flight", a historic feat for the Philippine Eagle Center, will be available for PhP300 for adults and PhP250 for kids, which will afford with an all access tour, watch the demo, interact with keepers, do photo ops, view videos from the Cornell Lab of Ornithology, and get up close and personal with Philippine raptors. The flight demo is on a first come, first served basis with each session to accommodate up to 75 people only. The Raptors in Flight is also available for exclusive bookings on a weekday for a minimum reservation of 35 seats. To more information, guests may email info@philippineeaglefoundation.org, or contact 09177089084 at least 3 days before the event.