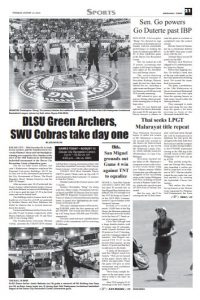 Senator Christopher "Bong" Go showed no sign of let down in the hardcourt on Sunday with his remarkable performance in leading the Team Go Duterte past IBP, 85-83, in their exhibition game at the Davao City Recreation Center.
Sen. Go racked up with 31 points, accounting nine triples, to lift Team Go Duterte once again on his shoulders for a nail-biting victory.
The sweet-shooting former Special Assistant to President Rodrigo Duterte made his last two shots from behind the arc, including a right corner one that gave Team Go Duterte an 84-80 lead with 30.8 seconds remaining.
IBP refused to give up just yet, hitting a three pointer in the ensuing play, to keep its hope alive.
Sen. Go was fouled and split his free throws that made the count 85-83 and gave the Davao lawyers a chance to send the game to overtime or completely turn the contest around.
But the Team Go Duterte put up a sensational defense in the IBP's final play to pull away with the win.
Armand Dioso scored 28 points for the IBP.
Malinao and Bonleon chipped in 35 combined points for Team Go Duterte.
Before that dagging trey, Sen. Go drilled a bank shot at the top with hands on his face that sparked his finishing burst. He scored the teams final seven points.
The game, a preliminary to the 34th Kadayawan sa Davao Invitational Basketball Tournament, was close right from the opening buzzer as both teams stayed within the striking distance.
They managed to trade mini runs along the way that kept the game a bit more exciting in front of the Davaoeno basketball fans.