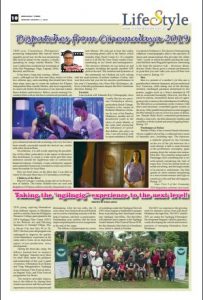 Ten young, aspiring filmmakers from different regions in Mindanao and five scholars from the Philippine Women's College participated in the 2019 Ngilngig Film Camp (NFC) at the Hebron Art and Healing Sanctuary in Trinidad Village, Ma-a, Davao City last July 26 to 28, 2019. The four-year-old program was redesigned to improve the quality of the filmmakers' experience at the camp and to focus on an important aspect of pre-production: story development.
During the three-day camp, the fellows learned how to improve their "ngilngig" fantastic story ideas for short films under the guidance and mentorship of this year's panel of mentors: filmmakers Kiri Dalena and Teng Mangansakan, Ngilngig Asian Fantastic Film Festival director Bagane Fiola, and Film Festival programmer Jay Rosas.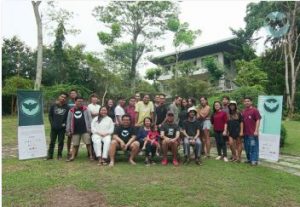 The mentors provided inspiration to the fellows by sharing their creative processes and their personal experiences in story development and filmmaking. After the key talks, the 12 story ideas were broken down and fleshed out in a series of pitching sessions with the help of mentors and their co-participants. Outstanding story pitches and the most improved participants receive recognitions at the end of the camp.
The fellows will participate in a series of workshops under the Ngilngig Film Lab (NFL) from August to September to prepare them in producing their developed scripts into "ngilngig" short films. The short films will premiere and compete in the Ngilngig Asian Fantastic Film Festival Davao 2019, the first fantastic film festival in Southeast Asia, which is slated in October.
The NFC is a response to the growing need for fantastic stories from and about Mindanao through film, The NFC and the NFL are under the Ngilngig Filmmakers Development Program, which is geared towards developing the critical and creative practices of emerging filmmakers from Mindanao.
By Anna Ginco