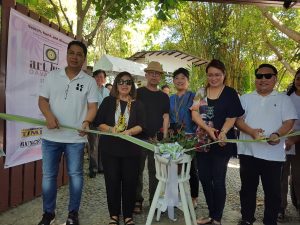 When artists, craftsmen and all those who just love art in all its forms gather, the atmosphere practically sizzles with creative energy.
Art Hunt, the first event of such kind in Davao City opened yesterday at the Sanctuary, Trinidad St., Greenhills Subdivision in Maa. It's a two-day bazaar that brings together artists, collectors and enthusiasts into one creative space.
At the opening ceremony, artist Vic Secuya shared that his advocacy has always been towards building a creative economy. Artists, he said, can always produce and don't necessarily need dole outs from government. What is needed is for government to provide a marketing infrastructure, starting with a database, so that artists can thrive.
Present during the cutting of ribbon were Atty. Raul Nadela of the City Mayor's Office, councilors Pilar Braga, Mabel Sunga-Acosta and J Melchor Quitain, who is also an artist.
There is now a movement, the beginning of a confederation of artists' groups as they know there is strength in numbers and that they can lobby successfully if they speak as one. At this time, visual artists are in the forefront of this wave, but other art disciplines are also coming into the picture.
So, at the Art Hunt, visual artists are joined by musicians, performance artists, artisans and crafters as well as Davao healthy food sellers in the beautifully appointed kiosks and stalls curated by artist Amanda Echevarria.
The artists and art groups are: Morning Light Gallery, Pintanao, Eclectic Fusion, PWC Fine Arts, UM Fine Arts, Sarangani Artists, Tabula Rasa, GAMA, Bintana Gallery, Piguras, Bai Hinang, BJMP Artists, TM Artists, Mugna, J. Ferrero et al, Noi Narciso, Amanda Echevarria, Bong Perez, Kublai Milan.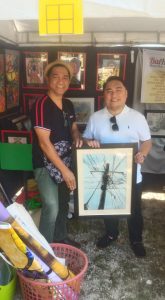 Artisan crafts: Hello amber by Cel Panganiban, Mandala Dot Art bu Kristin Gaid, Boboy Buenaventura Bonsai Art, Agos Creation, Road Map Series, Swito Innovation Hub, Profect Create, Bosch Eagles, andi Creates, Huncraft, The Good Shop, Arrow & Quivers, Rhoenart/Black Fundamentals.
Food booths are" Chef AVs kitchen, Ata Tahasikal, Village Pizza, Cacao de Davao, Yoghurt Davao, D'Silva Grill, BC Chicken, Jamie Baker, Loot Guinoo, Anna Banana, Queenie and Alter Moderne.
Today, August 11, there will be a woodworking workshop by Davao Bosch Eagles at 10am; 3rd Drum up community percussion workshop and open theatre, Alla Prima on the spot painting by Piguras at the Pavilion and Mug Painting by TauTau also at the Pavilion.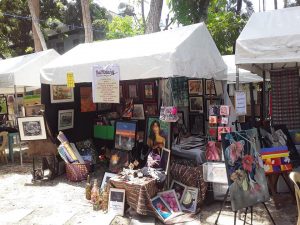 At 2pm, there will be an art talk led by Vic Seuctua and at 6pm, the closing ceremonies will be highlighted by the Magallanes Ukelele Group, Psychedelic Acoustic Band and Pasalidahay, screening of Davao Ngilnging Films.
This two-day event is a glimpse of more great things to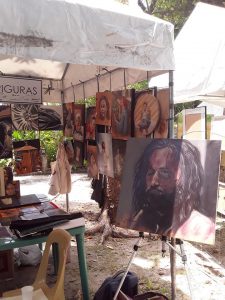 happen in the arts community in the near future. With artists coming together, there is no doubt that the city is on its way to fulfilling the dream of a creative economy.