The Sulu Archipelago, with more than 400 islands, is a treasure trove of marine resources. Basilan, the largest among the major islands in the archipelago, is more popularly known for its land-based products such as coconut, rubber and agricultural crops, which are shipped within and outside the country.
However, its mostly Tausug, Yakan and Samal communities along the coastal areas thrive by peddling marine products that they harvest from the surrounding islands.
For almost a decade now, Manny Kalbi, a Tausug-Samal who resides in Isabela, has depended on the bounties of the Sulu Sea for his family's provision.
"I started young, working for my father as a checker. My job was to scrutinize the quality of 'choka' (squid), 'kogita' (octopus), and other coral fishes that he sold in the local market," he reminisced.
Born and raised in Isabela, his regular grind in the market allowed him to earn his keep. "It afforded me to study up to high school," he said.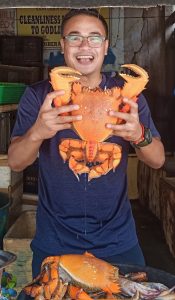 While his mother is a Bisaya from Manggahan, Dumaguete, he inherited his savvy and knowledge in the seafood trade from his entrepreneurial father who hailed from the island of Sangmay Gamay in Basilan.
"My wife, Rosalie, and I decided to do it on our own when we started to build our own family. We had two kids then. Now, we have five," he said.
Kalbi started selling "lambay bato" (cruzan crab) and the popular "curacha" (spanner crab) in a makeshift store located along Isabela's N. Valderosa Street.
"It's near the port that's why get a lot of foot traffic compared to the public market. Sometimes people get too lazy to go to the market, so they buy seafood from us. We also get a lot of visitors in the island as our customers," he said.
Soon thereafter, as demands increased, they decided to include "lambay" (blue crab) and "lukon" (prawn), which they source from Zamboanga, in their product list.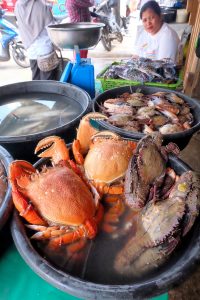 "We don't do the fishing ourselves but we rely on the catch of our fishermen suppliers from the different islands," he said.
As a " bagsakan", they buy their supplies wholesale that is why they can also sell these at lower prices, sometimes 30% to 50% lower than the market price.
"Today, our 'lambay' is sold at P300 a kilo while curacha at P450 a kilo. During a good harvest, when the seas are calmer, prices drop as low as P270 to P300 per kilo, " revealed Kalbi.
Crustaceans are farmed in deeper portions of the sea.
"We get to sell them not just in Zamboanga but sometimes as far as Cebu and Davao, especially during the months of November to January when the demand is high because of the holidays," he revealed
Kalbi also supplies the famous curacha markets in Guiwan and Sta Cruz in Zamboanga. "Ask them about Manny from Isabela, they know me there", he beamed with pride.
However, the demand and supply are both seasonal. Out of 12 months in a year, the good months only consist of five to six. Windy and rainy months are considered not good for crustaceans.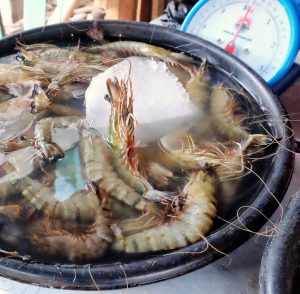 "If we get to sell, at least, 10 kilos, then we're break even," Kalbi shared. Sometimes they only get to end up selling three kilos in a day, enough to feed their family.
"Basilan is gifted with many islands with so much natural resources. But we also know that it won't stay long if we won't take care of our seas. We have to learn on how to respect it and deal with its temperament, " Kalbi quipped.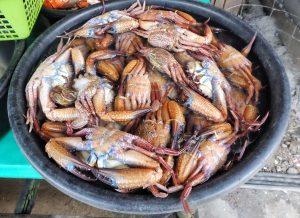 Their store opens at 6 am, when there is enough catch to sell, and closes at 4:30 pm, around the same time when the last ferry boat from Zamboanga arrives.