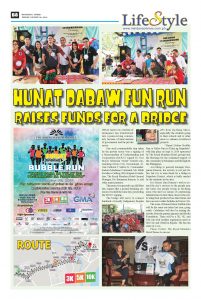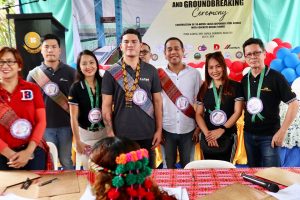 What used to be a hotbed of insurgency has transformed into a peace-loving community because of interventions of government and the private sector.
One such commendable step taken by the private sector was a signing of a Memorandum of Understanding and Cooperation (MOUC) signed by Vice Mayor Sebastian "Baste" Duterte representing Davao City Government, Lt. Gen. Felimon T. Santos Jr.,
Commander, Eastern Mindanao Command, Ms. Rikki Escudero-Catibog GMA Kapuso Foundation, The Royal Mandaya Hotel General Manager, Mr. Benjamen Banzon, Jr. and other major partners.
The project is expected to go full blast this August after a ground breaking ceremony was held the same day, preceeding the MOUC signing.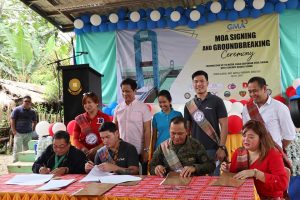 The bridge will serve to connect hundreds of mostly Indigenous Peoples (IP) from far-flung Sitios, especially the students going to their schools and to other areas to enhance livelihood projects.
"Hunat Dabaw Bubble Run or Takbo Para sa Tulay ng Paquibato" will take place on Sept. 8, 2019 sponsored by The Royal Mandaya Hotel, giving back the blessings for the continued support of the community in Mindanao and throughout the Philippines.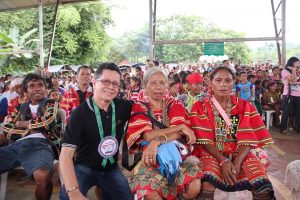 According to general manager Benjamen Banzon, the activity is not just for fun, but it is to raise funds for a bridge in Paquibato District.which is badly needed by the residents in the area.
It is Mayor Sara Duterte's wish to extend the city's services to the people near her heart, the people living in far-flung areas who have no means of constructing infrastructure to draw them closer to the city, to bring their products from their farms and have access to other facilities in Davao City.
The route of Hunat Dabaw Bubble Run will be the same one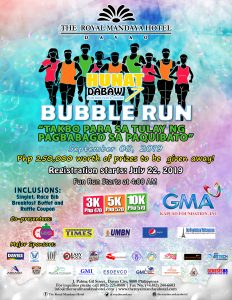 taken last year, going south. Celebrities will also be joining the activity from the partner agencies and Media Foundation. There will be a 3K. 5K and 10K run with satellite registration areas at SM City and GMall in Bajada. The fun run starts at 4 a.m.
Photo Credits: The Royal Mandaya Hotel/Tomas Avancena