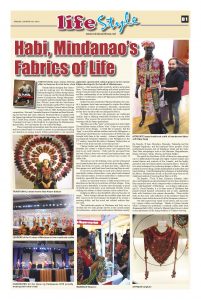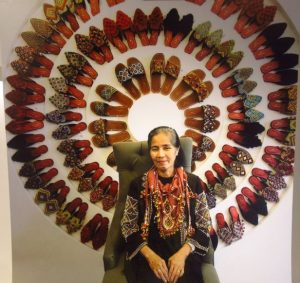 Through the years, Davao City has, admirably, spearheaded cultural projects in her earnest effort to showcase the rich facets of our Filipino heritage for the benefit of Mindanaoans.
Veteran fashion designer Boy Guino-o and his undying love for Mindanao fashion through his Alfonso design studio; Oscar Casaysay and his Moda Mindanao shows of yesteryears; Marga Montemayor-Nograles and her popular Kaayo fashion line; Wilson Limon with his NinoFranco brand; Emi Englis and the PWC School of Fine Arts & Design; Davao Fashion Design Council with its Habi Kadayawan annual competition; Mae and Carmaela Braceros Alcantara and their flourishing Crystal Seas and Onse; Maricris Floirendo-Brias in tandem with the Tagum Agricultural Development Corporation, Inc. (TADECO) and the T'nalak shop; Senator Loren Legarda and former Senator Nikki Coseteng have been in the forefront in supporting the Mindanaoans appreciation, love and respect for our cultural heritage.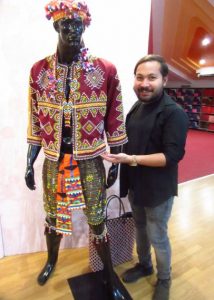 These remarkable personalities share the same passionate interest and have joined hands on several occasions in promoting and calling our attention in paying sincere tribute particularly to our ancestral weavers — their amazing skill, creativity, artistry and protean labor. These amazing, hardworking and artistic people have always been the tireless front runners in promoting the beauty and fine craftsmanship of our traditional textiles through the country's evolutionary couture of Filipiniana and both fashion and home accessories.
Indeed, because of patriotic Filipinos like them, the country's designers have been encouraged to explore the infinite possibilities in terms of aesthetics, silhouette, construction and fabrication to produce extraordinary new looks inspired as they have become with our indigenous fabrics.
To think that all those who patronize our traditional textiles, help in offering sustainable livelihood to our tribal weavers. This assures the preservation of our traditional weaving craft for future generations.
Take the case of the "tapa" or the beaten tree bark which Davao fashion veteran Alfonso "Boy" Guino-o once used in one of his terno designs. I would like to mention that the "tapa" is one of the earliest textiles used in the Philippines, a technology which the proto-Austronesians of 5000 years ago brought with them to the country. Antonio Pigafetta, who accompanied Ferdinand Magellan to the Philippines in the 17th century, described the native Cebuanos' fashion then as "cloth woven from tree bark cover their privies."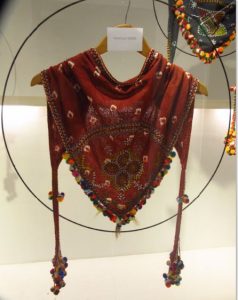 Chinese traders and Spanish soldiers took note of how abundant the country's tropical forests and vegetation had been to our early weavers. Cloth could be processed from the bark of trees; abaca was woven from banana plants; sago palm yielded a coarse sack cloth; and buri was a source of raffia cloth.
The natives' love for brilliant colors saw the widespread use of natural plant dyes such as blue dye from indigo plants; white dye from rice water; red from tree bark; yellow dye from ginger root; and black hues from burying fibers in mud.
It was also recorded that our early pre-colonial weavers used shells, mother-of-pearl discs, coins, glass beads obtained from Chinese traders, as well as embroidery to enhance their wardrobe, especially the ceremonial vestments.
Indeed, our ancestral weaves or habi always had an exalted place in the life cycle activities of tribal villages. From peace pacts to betrothals, in various rites of passage, as proof of wealth and social status, as an instrument of trade, woven clothing was always a valued currency and a cultural icon.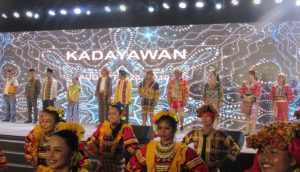 Indigenous fabrics also identified a tribe and its place of origin. Fabric designs indicate the available plant dyes and fiber sources in the environment, the height of its women's weaving ability; and the social and cultural realities they live with.
The traditional peoples of Mindanao and Sulo can be divided into two main groups known as the Lumad people of northeastern, central and southwestern Mindanao namely the Bagobo, B'laan, Mandaya, Mansaka, Talaandig and the Kalagan-Tagakaolo; and the Islamized Moro peoples of the northwestern/western side of Mindanao island and the Sulu/Tawi-Tawi archipelagos such as the Maranaw, Maguindanaw, Ilanun, Subanon, Yakan, Tausug, and Sama-Badjao.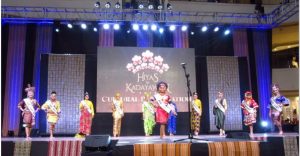 The motifs for the fabrics of life of these two main groups can be differentiated through the highly stylized human and animal figures and symbols of the Lumads; and the highly geometric and curvilinear patterns among the Moros. There are two main techniques for producing designs in fabrics: the ikat method of reserve dying; and the ansif method of embroidery and bead stitching. Notwithstanding the techniques of embellishing the fabrics, Mindanaoans all rely on the back-strap loom as the traditional method of weaving their fabrics of life.
The Bagobo, T'boli, B'laan, Kulaman, Subanun, Mandaya and Tagakaolo produced polished, tricolor abaca textiles in their respective areas which comprise what is otherwise known as the "ikat heartland" of Mindanao. According to anthropologist Dr. David Baradas, it is in these areas of Mindanao that people resisted Spanish colonization and as such, significant links with Southeast Asia remain discernible. These textile links are the most valid reflection of the traditions shared by Southeast Asians before the arrival of the European colonizers."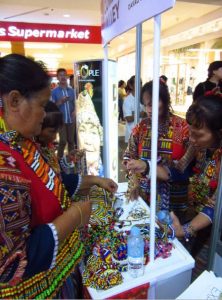 Our habi expressively speak of our history, and our country's unique culture and heritage. Thanks to former Senator Nikki Coseteng who published a scholarly coffee table book Sinaunang Habi (1991), written by Marian Pastor Roces, to show us the importance of the dying tradition of Filipino weaving.