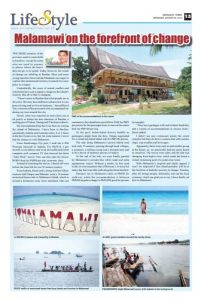 The mere mention of the province used to send chills to travelers – except for some who are used to journey to places where the brave dare not go, so to speak. Today, however, the winds of change are whirling in Basilan. More and more young travelers from outside Mindanao are eager to explore this unchartered territory in search for a new place to conquer.
Undoubtedly, the years of armed conflict and extremism have cast a negative image on the island's tourism. But all of that is changing.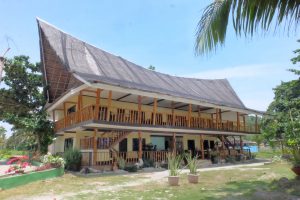 "There's more to Basilan than what people see in the news. We may have different cultures but we are peace-loving and we live in harmony," shared Hazel Tan, a tourism office personnel who accompanied me during my tour around the city.
Surely, what was reported on news does not at all justify or define the true character of Basilan, a melting pot of Yakan, Tausug and Christian cultures.
My trip unplanned trip but I was bent on visiting the island of Malamawi. I have been to Basilan, specifically Isabela and Lamitan cities, 4 or 5 times in the last 4 years or so, but, for some reasons, I never had the chance to visit Malamawi.
From Zamboanga City port, I took the 6 AM Weesum fastcraft to Isabela. For PhP110, I got myself a cozy deluxe seat in an airconditioned room complete with common TV that showed the latest "John Wick" movie. One can also take the slower RORO boat for PhP80 per trip, economy class.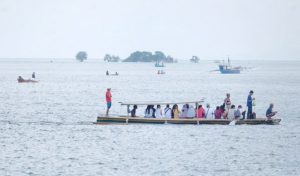 Instead of watching the movie, I dozed off even before the boat left for our 55 minute journey.
From Isabela, Hazel and I, along with her fellow tourism staff Ompie and Minmin, took a 10 minute motorized banca ride to Malamawi Island, which is around a kilometer away from mainland. One can commute to the island between 6AM to 9AM for PhP5 per person for the passenger boat, or rent out the entire boat for PhP100 per trip.
At the port, habal-habal drivers huddle as passengers alight from the ferry. Ompie negotiated for a round-trip habal-habal ride for PhP100 person.
The ride along Malamawi's paved inland road took only 15 minutes, passing through local villages, a cemetery, a military camp and a forested area said to be a haven of endemic species of snakes.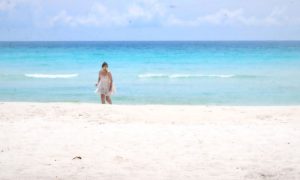 At the end of the ride, we were finally greeted by Malamawi's powder-like white sand and calm aquamarine waters. Without a doubt, its fine sand rivals, or even surpasses that of Boracay's. It was a hot sunny day but I was able walk along the shore barefoot.
Entrance fee to Malamawi starts at PhP40 for walk-ins, while the accommodation is between PhP400 (regular cottage) to PhP4,000 good for persons (overnight).
"They have packages with and without breakfast, and a variety of accommodations to choose from," Hazel added.
I didn't see any restaurant inside the resort complex but they do have a canteen that sells snacks, chips, cup noodles and beverages.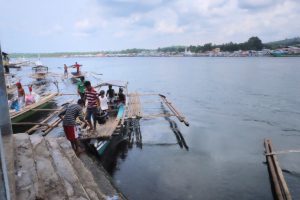 Apparently, there were only us and another group at the beach, so, we practically had the entire beach to ourselves. The waves were calm, and the tide was changing from high to low, which made the beach a virtual swimming pool of crystal clear water.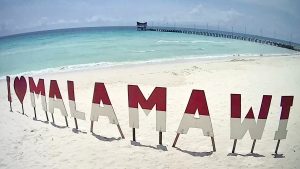 With Malamawi's tropical and idyllic appeal, I won't be surprised if this island paradise will be at the forefront of Isabela's journey to change. Tourism, after all, brings people, ultimately, stirs up the local economy. And I am glad you to say, I have finally set foot in Malamawi.