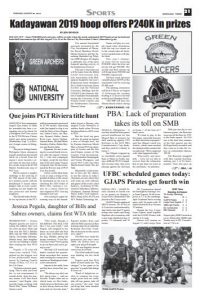 Davao City – GJAPS Pirates claimed its fourth win in six games on Sunday's Uraya Forty's Basketball Club played at the Uraya court.
GJAPS Pirates outplayed MDI Carwash, 101-83 for its 4-2 win-loss card anchored by Japs Sabio who had 27 points noting nine triples and Bong Papelera who wound-up with a rare triple double having 15 points, 15 rebounds and 10 assists.
DC Construction shared the limelight by beating Lorejo Farm Experts, 94-68 to improve at 3-3 in the standings. Jupit Cuadrasal had a scoring spree with 36 points with 10 triples backed by Roy Ociones 32 baskets.
Despite the loss, Lorejo Farm Experts stand together with the GJAPS Pirates with similar 4-2 cards.
Games will resume on August 11 with Lorejo Farm Experts play MDI Carwash at 6 a.m. followed by SMB Light Pombo next to DC Construction at 7:30 a.m.
UFBC Team Standing 3rd Season
7th Sunday Standings
Team: W L
GJAPS Pirates 4 2
Lorejo Farm Experts 4 2
SMB Light Pombo 3 2
DC Construction 3 3
MDI Carwash 0 5