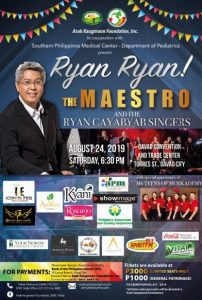 It was last July 19, 2019, when Dr. Michael Manalaysay and Mae Canete Tupas met with me for lunch at the Bistro Rosario to enlighten me about "Anak Kaugmaon Foundation, Inc." and its coming fund raising project.
"Anak Kaugmaon Foundation is a SEC-registered, non-profit organization that seeks to support and augment the resources of the Pediatric Department of the Southern Philippines Medical Center (SPMC). The Foundation is focused on ensuring financial support and medical assistance to indigent patients who are critically ill with meager resources to depend on. Over the years, Anak Kaugmaon Foundation has helped many young patients overcome their illnesses; and grow and mature to become productive members of our community," explained Dr. Michael Manalaysay in his serious manner. Naturally, Mae Canete Tupas and I could only nod our heads in total belief of what the good doctor informed us.
Under the able leadership of Dr. Michael Manalaysay, the Foundation has been able to successfully extend its help to the ever growing community and continues to provide valuable care and assistance to the children of Mindanao. Since its establishment in 1998, Anak Kaugmaon Foundation has been diligently conducting charity events, programs and fund raising concerts in support of the organization to realize its goals and purpose.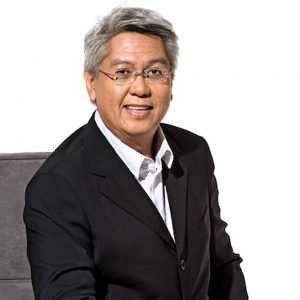 "I've always believed in the fact that good music mends broken hearts. But rarely can you listen to one of the country's greatest musical icons do wonders to the heart and heal sick children of Mindanao at the same time. Well, the good news is that music maestro Ryan Cayabyab and his Ryan Cayabyab Singers are coming to Davao for a night of musical nostalgia and delight. The concert, aptly dubbed "Ryan! Ryan! The Maestro and the Ryan Cayabyab Singers," will be the second time the National Artist for Music will be performing in Davao City. The much awaited concert will be held at the Davao Convention and Trade Center along Torres Street, Davao City, this coming August 24 at 6:30 in the evening," informed Dr. Mike Manalaysay.
What an opportune time to congratulate and celebrate as the National Artist for Music, maestro Ryan Cayabyab, has just been chosen as one of the Ramon Magsaysay Award 2019 recipients. The Ramon Magsaysay Award is Asia's equivalent of the Nobel Prize. According to a newspaper account, maestro Ryan is recognized for "his compositions and performances that have defined and inspired Filipino popular music across generations; his indomitable, undeterred confidence to selflessly seek, mentor and promote young Filipino musical genius for the global stage; and his showing us all that music can, indeed, instill pride and joy and unify people across the many barriers that divide them." The Ramon Magsaysay Award Foundation stated that "Ryan Cayabyab is driven by a passion to mentor, educate and contribute to the flourishing of Filipino musical talent."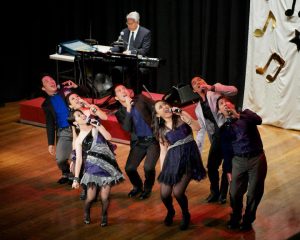 Lucky, indeed, are the members of the Ryan Cayabyab Singers to have been personally chosen and mentored by the great Filipino music maestro of the 21st century. These excelling singers include writer Celine Fabie; speech pathologist Katherine Tiuseco; Davaoena Nica Tupas who is finishing her Bachelor's degree in Music major in Voice at UP Diliman; Davaoeno actor and Urban and Regional Planner Poppert Bernadas; multi-talented commercial artist Anthony Castillo; beatboxer/vocal coach/registered architect VJ Caber; and sound engineer cum freelance music producer Erwin Lacsa.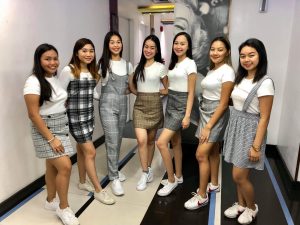 The Maestro has prepared a set of well-loved songs from his repertoire to be passionately performed with the Ryan Cayabyab Singers. For sure, it will be a night of magical harmony and all for a noble cause. Anak Kaugmaon Foundation has also invited as special guests the talented and young Davao singers of music maestro Bong Aviola's Musikademy called the M6 Teens. Musikademy's M6 Teens is comprised of Quisha Modequillo, Julianna Maniquis, Lexi Cosare, Andrea Lopez, Kyle Bengil, Roama Gumamit and Jana Sy.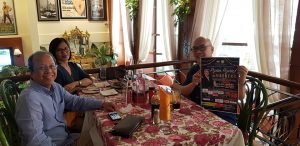 In this festive Kadayawan Festival, the Kaugmaon Foundation is inviting everyone to watch Maestro Ryan Cayabyab and the Ryan Cayabyab Singers concert in support of the sick children admitted at the Pediatric Department of SPMC. Tickets are available at the Anak Foundation Office located at the 4th floor of SPMC, the Apo View Hotel, and Grub Restaurant. For more information, please call Arlene Villanueva at 094-6275-2151.