Our purchases take on a different meaning when we think about the people who made our clothes, assembled our furniture, prepared our food, crafted our accessories.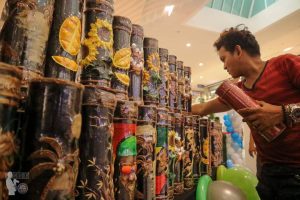 Through shopping—a simple everyday action—we are able to make someone's life better by supporting their livelihood.
This is the idea behind the anniversary bazaar of the Bureau of Jail Management and Penology (BJMP)-Davao which took place in SM City Davao's Annex from August 2-4, 2019.
The theme of the anniversary is "BJMP@28: Patuloy na Itinataguyod ang Kahusayan at Malasakit sa Pamamahala ng Piitan." It is spearheaded byJCSupt. Leo P. Baldon, regional director, and JSSupt Ferdinand Pontilla.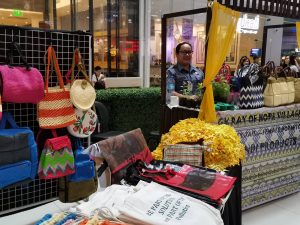 The activity showcased a range of quality products handcrafted by inmates from eight jail facilities throughout the Davao Region. These items—accessories, plants, kitchen effects, and even paintings!—are a result of BJMP's livelihood program that aims to reintegrate the persons deprived of liberty (PDL) back to the community.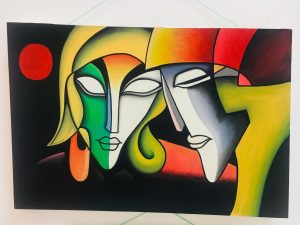 The Davao City Jail-Female Dorm also promoted recycling materials such as eco bags made from used tarpaulin, rugs and potholders from old clothes. On the first day, more than half of the paintings were immediately sold.
JSSupt Pontillo said the skills training and livelihood programs are a mandate of their office.
"It helps prepare PDLs for reintegration in the society and it gives them the opportunity to support their families' needs," he said. Inmates from the Montevista District Jail, Davao City Jail Annex, Davao City Jail, Davao City Female Jail, Panabo City District Jail, Digos City District and Female Jail, Tagum Female Jail and City Jail and IGACOS City Jail are involved in the bazaar.
Among the products sold were lovingly hand made crafts and accessories worthy of any fashion editorial: hand painted bayongs and hand woven twine handbags, purses and wallets. There were also home decors that could brighten up any room: paintings, rags, succulents, and rags.
The power of craft
When we look at the creativity involved in creating the products of the inmates, we celebrate people and processes.
Orsola de Castro, co founder of the global movement called Fashion Revolution, writes in a blog that supporting crafts allows us to reclaim tradition and skills – a perfect "antidote" to today's accelerated rhythms and ways of living.
"Many of us have our own familial or community craft to inspire us," de Castro says. "it's about unraveling this thread, looking back, and moving forward."
Fashion Revolution co-founder Carry Somers says, crafts represents relationships and forges personal connections in the community: from the artisan and maker, to the market and middle man, and to the customer.
"Craft embodies past heritage, present livelihoods, and future aspirations for millions of people around the world," Somers says.
A piece to take home
Shoppers also enjoyed fun and functional gift items: coin banks, pot holders, personalized pens, upcycled pouches and dishwashing soap.
The support of the community to give a platform for the inmates to share their products go a long way in shaping lives. It brings the skills and the visions of PDLs to reality, while giving them chance to live a better life for themselves and their families.
When our shopping supports their livelihood, we exercise our ability to make their voices heard–we hold their hands and embrace a better tomorrow.
Jesse Pizarro Boga is a writer who has keen interest in media literacy, sustainability, and sci-fi. He enjoys bacon and burpees.