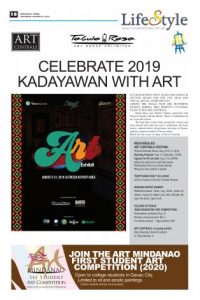 It's KADAYAWAN once again and Davao is getting ready for the fun, beat and visual art all over the city.
Among the malls that are featuring events during this month's cultural event is Felcris Centrale.
Tabula Rasa and Marfori Studios partnered with Felcris Centrale with the theme- 'Dayo' A celebration of art, food and culture.
We hope that visitors from around the country and from abroad will enjoy this year's celebration, the food, music, cultural shows, bring home souvenirs of Davao, and buy art pieces made by Davao artists.
Below are the events to enjoy at Felcris Centrale.
RESCHEDULED:
ART CENTRALE FESTIVAL
(Felcris-Centrale Atrium) Aug 10 to 31, 2019
Opening Program- Aug. 10, Saturday, 10 AM.
Ingress for the art sale- Aug. 2 & 3 (8PM)
Artists are welcome to sell their pieces
PM Rolando Pino-on or Dinky Munda.
Bring your own easels or panels
'SAVE DAVAO GULF' Art exhibit
will be a feature in the Art Centrale Festival.
ANGONO ARTIST EXHIBIT:
Waterfront-Insular Hotel. Aug 25/26. Ankla Art Gallery. Angono's Mayor and other officials will open the show. Open to all
COLORS OF PEACE
'NON-FIGURATIVE' ART COMPETITION
Submissions on/before Aug. 31
Winners announcement: Nov 1
For details contact — Ega Carreon (FB)
ART CENTRALE- on going exhibit:
Daryl Descallar, Brando Cedeño
& Dinky Munda, Jr.