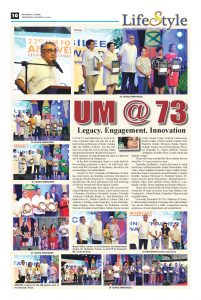 Loyalty and dedication to work is always rewarded when one puts his or her heart in the performance of tasks, looking after the welfare of others. For one who does not count the cost in serving others and practices honesty, decides for the good of the majority, serving through the years is a pleasure and a satisfaction in doing good.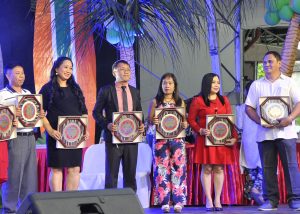 In the field of education, there is a wide field for the teaching profession to serve. So with those who work with the University of Mindanao, devoted to the non-teaching, but related fields.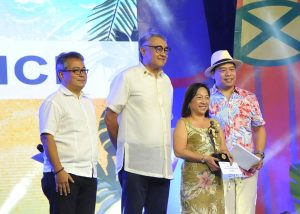 On July 26, 2019, University of Mindanao's Founding Anniversary, an awarding ceremony took place to recognize Model Employees, Outstanding Teachers and persons who have performed well and deserving of Service Awards and other Special Awards.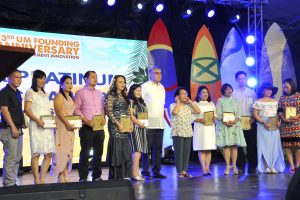 Worth mentioning were those who received the China Platinum Service Award, for20 years in service – Marianne Afrondoza, Reynaldo Amoyo, Rochelle Asuncion, Emiliano Baran, Jr., Joel Bartolome, Eduardo Berco Jr., Pedrito Castillo II, Edwin Chin, Leo Anthony Coching, Jessica Dagohoy, Jovita Darunday, Jaime Galigao, Amor Jangao, Ivy Malibiran, Vicente Salvador Montaño, Reita Palma, Nelian Sayon, Lenziel Tolon, Restie Torres, Darwin Valencerina, Marlyn Valles, Maria Carolina Nuñeza, Rey Regidor, Danilo Salomon, Benjie Tejada, Jeaneth Tormis, Ian Lou Macapayag, Glecerio Magdalis Jr., Pepito Mission, Jerome Quilaquin, Rosalita Rom, Joseph Sarad and Manuel Ortega.
Those who were awarded the Silver Jubilee Service award for 25 years in service were:
Alejandro Abellana Jr., Jocelyn Bacasmot, Jocelyn Bartolome, Geffren Bernardo, Maria Teresa Bulao, Noli Canoy, Erna Caquilala, Dominic Carpio, Melita Ceniza, Khristine Marie Concepcion, Roel Darunday, Cornelio Estrella, Nicanor Fabracuer Jr., Rolando Fuentes, Ernesto Lanciola, Ireneo Mejorada Jr., Martin Ramos Jr., Gefardo Salas, Ruel Sarusad, Efren Tianila Jr., Luzminda Carrillo, Henry Hapiunat and Renato Panisa Jr..
Those who received the the Pearl Jubilee Service Award for 30 years in service
were Jean Albutra, Jose Condonar Jr., Adonis Rañon, Roqueline Valenzona and Angellin Basan.
University President/CEO Dr. Guillermo P. Torres, Jr. delivered his President's Message after which dinner was served followed by a raffle, competition among employees of each department and socialization.