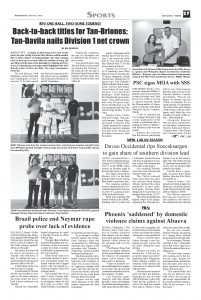 Leaning on their long drives and steady putts, the pair of Jing Tan and Addy Briones added another title to their cabinet of championships, this time winning back-to-back gross crowns while the tandem of Jong Tan and Brian Davila shared the limelight by winning the Division 1 (0-8 handicap) net trophy which highlighted the 2019 Rancho Palos Verdes One-Ball, Two-some tournament, Saturday.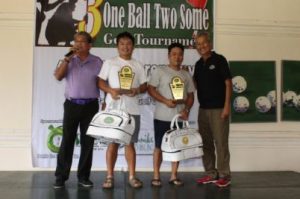 Tan and Briones, both Philippine Airline Interclub golf campaigners scored a one-over 73 for their second one-ball, two-some gross trophy only to win via countback next to the pair of Roderick Lo and EJ Casintahan.
Despite the countback, the pair of Casintahan and Lo settled for the Division 1 gross crown.
Pre-round favorites Jong Tan and Brian Davila wound up winning the Division 1 net crown on a 67 but only to fall short behind Russel Mon Salazar and Paul Ancla who took the overall net title, card with a 64.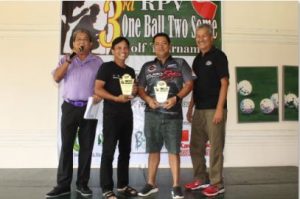 Randy Cadiongan and JP Marfori had 69 for the Division 1 net runner-up while Kim IL Gyu and Lee Bong Hee finished with 75 for the gross runner-up honors.
Winners in Division 2 (9-14 handicap) were Wens Banares/Jaycee Hembrador 78 (gross champion), Randy Ceniza/Alro Paglinawan 81 (gross r-up), Paul Dakudao/Bobby Dakudao 68 (net champion), Fortune dela Rama/Oscar Palicte 69 (net r-up); Division 3 (15 and above handicap) – Rolly Buendia/Ric Punzalan 86 (gross champion), Vince Batucan/Jerico dela Cruz 89 (gross r-up), Boyet Tan/Michael Lim 68 (net champion) and Sim Gonzales/George Omelio 74 (net r-up).
Rancho Palos Verdes Golf and Country Club general manager Tommy Inigo and board of director Ting Castillo awarded the winners with their respective trophies and gift items during the awarding ceremonies after the games.