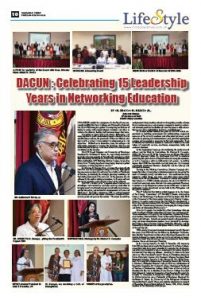 Organized amidst the emergence of a bustling Davao metropolis in 2004, the Davao Colleges and Universities Network, Inc. (DACUN) brought together 12 competing institutions of higher learning with organizational structures and ethos as varied as the students, faculty, staff, and constituents they serve.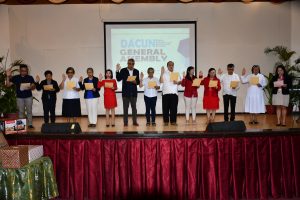 Struggling to understand each other's differences, and come together to craft an educational agenda attuned to Davao and Mindanao culture, the presidents of these institutions also had to infuse in their vision national development goals and objectives. Difficult at its formative years, the colleges and universities managed to traverse the landscape that was cut exclusively for the group – to be the lead network of educational institutions in the country.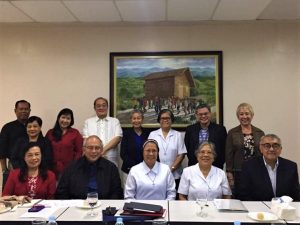 DACUN Board Member and University of Mindanao President Dr. Guillermo P. Torres, Jr., sagaciously summed it up in his welcome remarks to the network's general assembly held Wednesday, 24 July 2019, at the University of Mindanao's Mini-Auditorium, DPT Building, Matina Campus, by quoting Henry Ford: "Coming together is a beginning, keeping together is progress, working together is success."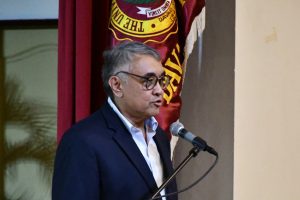 Sr. Marietta B. Banayo, M.A., outgoing President of both DACUN and the Assumption College of Davao, highlighted her one-year presidency by outlining the activities of the Board of Trustees, particularly, the strategic planning workshop and the binding document of the network. In the presence of, and affirmed by the eight working committees, Sr. Banayo outlined the vision, mission, goals and core values of the network.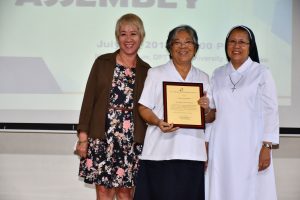 DACUN's vision is to be "a premier educational network of colleges and universities mutually assisting each other in bringing social transformation in pursuit of truth, inclusiveness, quality education, and sustainable development in Davao and Mindanao." DACUN's mission is: "We are united dynamic educational network that makes a difference through collaboration (spirit) and passion for service. We create an enabling environment where member schools work together, provide a forum for discussion on issues and concerns common to member schools, and advocate positions that further advance the interests of the education sector and its stakeholders in Davao, and Mindanao."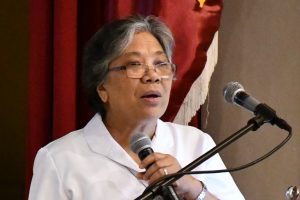 Sr. Banayo further intoned the goals of DACUN which are: provided an enabling environment for collaboration; supported concerns of the network members and other relevant issues; acted advocate on pressing and common issues; and, provided appropriate services and responded as necessary to the local community. Each institution and committee member is exhorted to abide by the core values of teamwork, service, excellence, compassion, truth, and academic freedom.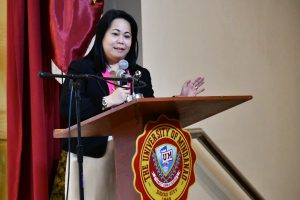 In her inspirational message after inducting the newly-elected officers and the Working Committees, Dr. Maricar R. Casquejo, CESO III, Director IV of the Commission on Higher Education (CHED) Regional Office XI, challenged DACUN to continue promoting the spirit of networking between and among the members, as well as become a critical collaborator and partner in crafting degrees that CHED has classified as priority programs. Dr. Casquejo specifically mentioned Business Analytics and the Library and Information Science.
Turning to the Working Committees, Director Casquejo challenged the Library Committee to introduce novel ways in serving the needs of students, faculty and other users. She mentioned learning commons, coffee shops, nap areas, and other open spaces which will increase library utilization. Inasmuch as Library and Information Science is a CHED priority program, she advised DACUN to recruit and encourage more students to become registered librarians to ensure a steady manpower resource in one of the most in-demand professions in the educational system both in the Philippines and the global workforce.
The 4th Industrial Revolution which happens to be the theme of the Library Committee's 13th Phil-BIST (Books, Information Science and Technology) Conference and Fair on August 6-8, 2019 at the University of the Immaculate Conception's Bajada Campus, Director Casquejo congratulated the DACUN for spearheading a futuristic work environment with the theme "Education Ecosystem in the 4th IR : Transforming Libraries, Developing the Competencies and Skills of Information Professionals."
Director Casquejo also lauded the other Committees who are at the forefront of higher education in Davao City and Region XI. These committees are Learning and Instruction, Community Extension Services, Student Affairs, Cultural, Research, Finance, External Affairs and Linkages. In-between cerebral reports and presentations, song and dance intermission numbers were provided by Assumption College, Davao Doctors College, Philippine Women's, and the University of Mindanao and raffle prizes were drawnto the delight of the participants.
With a newly-formulated strategic development plan for the next five years, DACUN will face the following challenges: Collaboration; Quality Transformative Education; Excellent, Responsible and Service-Oriented Learners; Advocacy on Social Advocacy Issues; Agent for Social Transformation; and, Commitment to Truth, Inclusiveness, Peace and Academic Freedom.
In her closing remarks, Sr. Aida T. Frencillo, OP, incoming DACUN president and currently the President of San Pedro College, closed the whole day general assembly by accepting the challenges, and exhorting everyone to work as a team in order to achieve the goals laid down by the outgoing officers. Assisting Sr. Aida in the year ahead are: Vice-President Fr. Joel E. Tabora, SJ, President, Ateneo de Davao University; Secretary Dr. Evelyn A. Magno, President, Rizal Memorial Colleges; Treasurer S. Ma. Marissa R. Viri, RVM, President, University of the Immaculate Conception; Auditor Mr. Conrado L. Benitez II, Philippine Women's College of Davao; and Members of Executive Committee Mr. Gabriel B. Atega, Chairman of the Board of Trustees of Brokenshire College; Holy Cross of Davao College President Dr. Ma. Iris A. Melliza; Davao Doctors College President Prof. Miguel D. Soledad; University of Southeastern President Dr. Lourdes C. Generalao; Assumption College of Davao President Sr. Elvira Soleminio, m.a.; University of Mindanao President Dr. Guillermo P. Torres, Jr.; University of the Philippines Mindanao Chancellor Prof. Larry N. Digal; and, with the administrative support of Executive Director Maria Julieta R. Torres, CPA, MBA, faculty member of the University of Mindanao.
By Dr. Briccio M. Merced Jr., University Librarian,
UP Mindanao and Chair
DACUN Library Committee