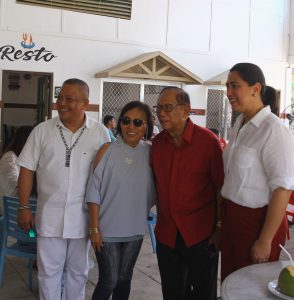 What was once a coconut grove in the 80's has slowly transformed into an idyllic resort, a sweet escape from the rush and frenzy of urban living.
An hour and a half drive from Davao City on a lazy Saturday morning, the Seagull Inland Resort in Guihing, Davao del Sur, has a pastoral vibe that soothes the senses and transports one back to the simple and tasteful life of the past.
Beth Dureza, who looks way younger than her 70 years, conceptualized and designed the entire resort, her artist's eye showing in every nook and cranny of this delightful space. From the intricate woodwork on boards and stools, and the well-appointed guest rooms, her sophistication in interior design shows. One should not miss the gramophone on the restaurant that can still play old records or the Republican black Labrador proudly donning a Trump cap that plays sentry in their room, barking ferociously if someone passes by his space.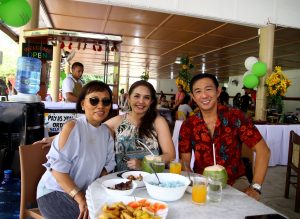 The organic farm that produces vegetables and spices thrives in the resort. There is even a refrigerated storage made of charcoal that keeps the produce fresh before it hits the market. All of the fruit trees and plants are grown organically with caring for the environment in mind through recycling evident in the system.
Beth said she never thought she would be back to farming after being in the hectic world of business for so long, but she welcomes this, another milestone in her life. She inherited the 6.5 hectares of agricultural land from her parents but did not work on it until the past decade, busy as she was with her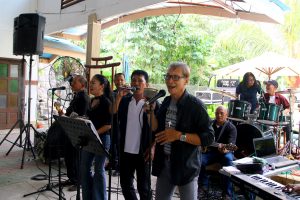 business which took most of her time. It was after her recuperation from a medical procedure that she devoted her time to the resort.
Former Peace Adviser Jess Dureza said that he was then a young lawyer when he started coming to the farm to practice shooting. In the mid-90's, working then as member of Cabinet of Pres. Fidel V. Ramos, he developed the shooting range with friends coming over to practice. He pointed to the trees he planted on the site and claimed he has the only range with that kind of ambiance. On August 1, this year, an International Shootfest will be held in the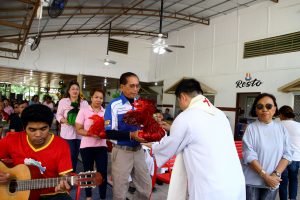 resort, bringing in some 500 shooters across the world. This is the third international event, the first one in 2003 and then in 2011.
The blessing of the resort was administered by Fr. Rico Dingal, parish priest of the Our Mother of Perpetual Help Parish in Guihing. It was a family affair with guests, Tourism Regional Director Tanya Rabat-Tan and other local officials.
A light rain after the sumptuous lunch was a shower of blessing to this newly opened Seagull Inland Resort that completed the two other resorts located close to the beach and on top of the mountain.