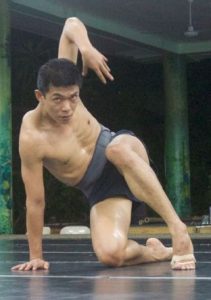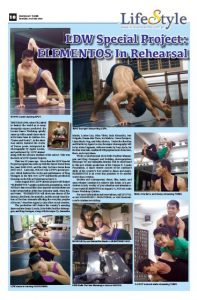 The year 2000, when YKL failed to destroy the world as so many doomsday-sayers predicted, the Locsin Dance Workshop quietly came up with a small dance show at its home base in Quirino Ave. "Dance and Poetry", as the show was called, featured the works of Davao poets, interpreted in choreography by Agnes Locsin, and performed by LDW alumni along with the advance students of the school. This was the birth of LDW Special Projects.
That was 19 years ago. Since then the LDW Special Projects program has come up with the Sayaw Series from the years 2000-2010, and the Alay Sa Puno Series from 2010-2015. Last year, SOLOS was LDW's special project, which featured the works and performance of Biag Gaongen in the first ever LDW multimedia production focusing on the life as Dabawenyos know it.
Come August 2019, LDW Special project will feature "ELEMENTOS," another multimedia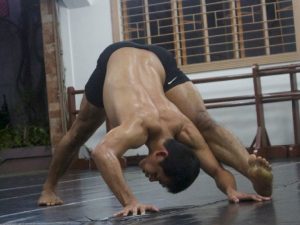 presentation, which will have dances and film done separate and simultaneous in the interpretation of the four elements: earth, wind, fire, and water. "ELEMENTOS will showcase dances of the abstract, the literal, the symbolic, and the actual visualization of the four elements affecting the everyday peoples of Davao," describes Agnes Locsin of her recent creation.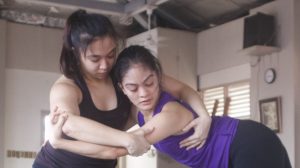 The production will feature the country's amazing dance artistes Sonny Locsin, Kris-Belle Paclibar-Mamangun, and Biag Gaongen, along with Monique Uy, Samantha Martin, Louise Lao, Nina Vilela, Inah Abrasaldo, Jem Delgado, Danna dela Torre, Ice Mabale, Cesca Enriquez, Liane Marie Ong, and John Ababon. Under the direction and libretto by Agnes Locsin, the major choreography will be by Alden Lugnasin, with new music by Joey Ayala, for the four elements, combined with popular music from here, there, and everywhere.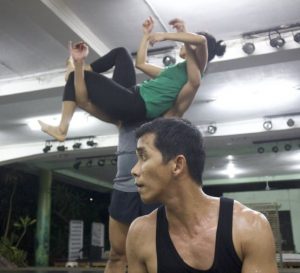 Works of professional (Kris-Belle Paclibar-Mamangun and Biag Gaongen) and budding choreographers (Monique Uy and Samantha Martin) will be showcased in this new artistic production of the Carmen D. Locsin Foundation. A dance theater concert of the combined skills of the country's best artists in dance and music, ELEMENTOS is an event that promises to be another world-class creation.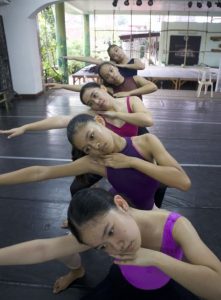 Modern and contemporary dance, film, music, and dance theater combined to achieve this dream of a production is truly worthy of your attention and attendance. Come watch ELEMENTOS on August 2-4, 2019 at Locsin Dance Workshop-Quirino.
For more information and reservations, call 2274753; or text 09169095099 / 09454700846; or visit facebook.com/locsindanceworkshop.