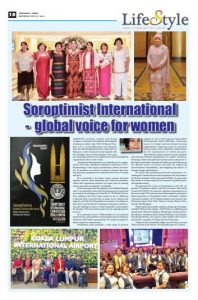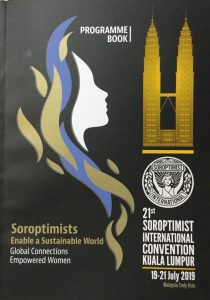 Arriving in Davao recently from Kuala Lumpur to attend the Soroptimist International Conference held in July, 2019, SI Davao President Luz P. Acosta-Barrientos and delegates from the club brought home their experiences in Malaysia, richer in memories and inspired with the messages from invited speakers who gave new meaning to the lives of women from various Soroptimist organizations all over the world.
Soroptimist International is a worldwide service organization for women, founded in Oakland, California in 1921. Representing a wide range of professions, talents and interest, SI members are actively involved in diverse advocacy and grassroot programmes to transform the lives of women and girls.
SI is comitted to the future where women and girls together achieve their individual and collective potential, realise their aspirations and have an equal voice in creating strong, peaceful communities worldwide.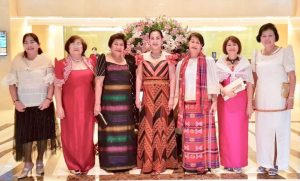 In her message to the Soroptimists, Seri Paduka Baginda said "I am pleased to learn that Soroptimists have honoured my country by selecting us to host the 21st SI World Convention, making it the First Asian country to do so. Malaysia is blessed with a rich diversity of many races, cultures and legacies, just like the Soroptimist movement. I am happy to learn that you have been working at educating, empowering and enabling women to build sustainable communities for decades. This convention is part of your ongoing mission to do so."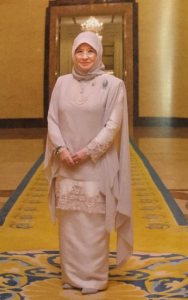 SI is a network of over 75,000 members in 122 countries and territories, and members work though project to Educate, Empower and Enable opportunities for women and girls in theirs respective communities.
Soroptimist clubs undertake a wide range of projects aligned to the United Nations Sustainable Development Goals (SDGs)by: Increasing access to formal and non-formal learning opportunities; Improving access to economic empowerment and sustainable opportunities for the employment of women and girls; Eliminating violence against women and girls and ensuring Womens participation in conflict resolution; Ensuring women and girls have food security and access to the highest attainable standard of healthcare and Addressing the specific needs of women and girls by improving environmental sustainability, and mitigating the effects of climate change and disasters.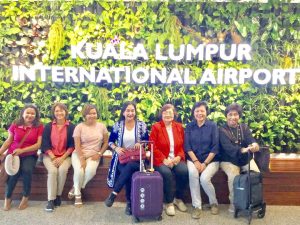 SI works with international networks and partners, including the United Nations and its agencies, the Association for Women's Rights in Development (AWID). To ensure that that needs of women and girls are factored in global policy and agenda-setting.
SI represents the voices of Soroptimists at the UN via general Consultative Status with the Economic and Social Council (ECOSOC) Its network volunteer-representatives at the seven major UN centres ensures that expertise and project based experience of Soroptimist clubs worldwide is shared with policy-makers. SI UN Representatives are based in the following centers New York, Geneva, Vienna, Rome, Paris, Nairobi and Bangkok.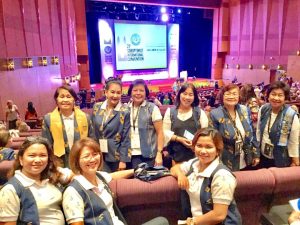 Major topics discussed by speakers and group workshops included: Women take charge – End Violence, trafficking and exploitation; Women leading in Technology and Innovation; She Matters: Healthcare and Lifetime Wellness; Our Climate, Our Responsibility, Our Actions; How Global is SI's Voice? and Gender Equality for Water and Food Security.
Theme for the Friendship Night was Feel the Love and Theme for the Gala Dinner was Kaleidoscope of Cultures.