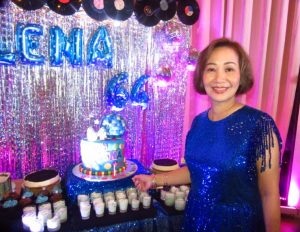 A week before the well-loved Davaoena businesswoman, Magdalena "Lena" Atilano-Benedicto, was to celebrate her 64th birthday, her beautiful and charming daughter Pauline invited close relatives and friends to a surprise birthday party for her mother dearest. It was going to be a "hot stuff" gathering so she requested her mom's dearest friends to come in their best "Donna Summer-inspired outfits;" and to remember that it's a surprise party for her mom. Two days before her birthday, I got a message from dear Lena inviting me "to come and celebrate with me this beautiful life at Rekado." I was surprised and I asked her how she came to know about her surprise birthday party. "Ay, di ko alam yang surprise birthday party na yan. I just decided to celebrate my 64th birthday yesterday," was her equally surprised response.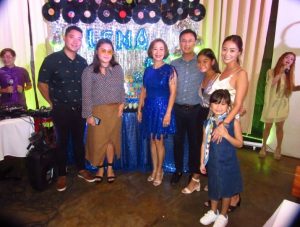 Well, almost everybody loves Lena as the disco queen of sorts when dance instructors were so popular then with the dancing matronas of Davao who could afford their fees. But Lena's more known as a respected businesswoman with a good heart at that. She was born in Davao City and studied at the Philippine Womens College of Davao before proceeding to the College of St. Joseph in Quezon City for a degree in BS Commerce. She accomplished her MBA at the University of Santo Tomas. It was while studying in Manila that she met an Ilonggo in a party of her Ilonggo barkada who fell in love with her. Rommel Villanueva Benedicto was "perseguido and sweet," which Lena found attractive in her ardent suitor. The young couple got married at the St. John Bosco Church in October 17, 1982, with the wedding reception held at the Top of the Intercontinental Hotel in Makati.
"Rommel and I worked in Manila. I was a new accounts' clerk when I started working with Security Bank and then advanced to becoming an assistant manager. After two years, I transferred to Alemar's Bookstore as a product manager. Rommel then was working with Terrapharma by the United Laboratories as med rep. Looking for a much better pasture, we both decided to head to Davao and opened our own business called Golden Brown along Duterte Street," narrated Lena.
"It was sometime in 1985 when the lechon manok fad in Manila became such a news item. We'd read about its popularity and very appealing taste to the Pinoy palate. A friend encouraged us to bring the business over to Davao City," added Rommel Villanueva Benedicto who has a degree in BS Chemistry. The Benedictos by then were blessed with handsome children namely Tisha, Pauline and Miguel.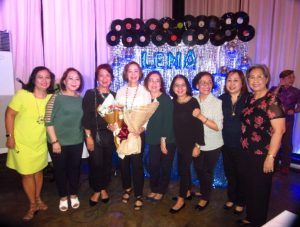 "It was in Nov. 18, 1985, when we opened our nondescript food counter called Golden Brown Specialties along Malvar Street (presently Duterte Street) with lechon manok as the main feature of our simple menu. Offering the first lechon manok in Davao City, our initial 50 chickens were sold-out in less than two hours, " recalled Lena adding, "We also offered tapsilog, tocilog, and other Filipino standard favourites which were quite popular then." With the success of their initial business venture in Davao, the Benedictos opened Patok sa Manok branches along Bajada, Lanang, Mamay Road, Buhangin, Matina and Tulip Drive.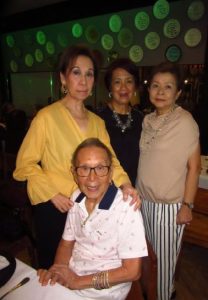 "When we felt and realized that Davao was ready to have a better dining place serving good Filipino food, we decided to open Rekado in 2016 with our daughter Pauline as chef. Before this year ends, we are hoping to open a newly conceptualized restaurant with a much bigger dining space for functions that can hold about 200 people," revealed Lena.
During the "not-so-surprise birthday party" for dear Lena, you could truly feel how much her family, relatives and friends adore her. Rommel sang from the heart two songs for his beloved wife; while Lena's two lovely and talented grandchildren from the USA presented her with a mini violin concerto. Chef Pauline and lawyer Miguel busied themselves attending to the kitchen, instructing waiters, and at the same time, entertaining the guests.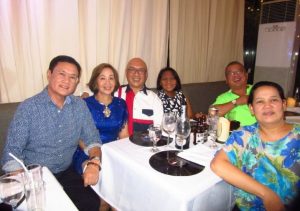 Truly, the hardworking and humble Rommel and Lena have become veterans of sorts in the ups-and-downs of the food business from experience. Rommel and Lena Benedicto's triumph in the more than three-decades-old Patok sa Manok is truly hard-earned and admirable. It's a Benedicto culinary legacy which, happily, finds continuation in chef Pauline's able hands.