It has only been a little more than 12 months since my last visit to Siargao Island and there's already a noticeable swell of new resorts and restaurants along Tourism Road.
The temporary closure of Boracay last year certainly benefited other island destinations in the country including Siargao.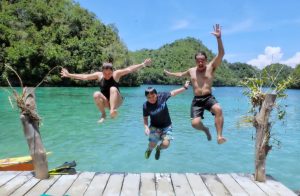 "We used to be frequented mostly by Europeans. Now, we have all sorts of tourists from all over the world. We also saw a lot of domestic tourists coming as well," said Lito, a local tricycle driver who often takes visitors from Dapa seaport to General Luna, the island's main hub.
Flights to the island were also opened and added. Now, the island can be reached from Luzon (Clark, Manila), Visayas (Cebu) and Mindanao (Davao) by plane. The surge of interest prompted avid readers of Condé Nast Traveler, considered a "bible" in the industry, to name Siargao as the "Best Island in the World" in its 2018 Readers' Choice Awards. The Department of Tourism also recorded a whopping total of 195,562 local and foreign tourists who visited the island in 2018, or a 50.7% increase from 2017.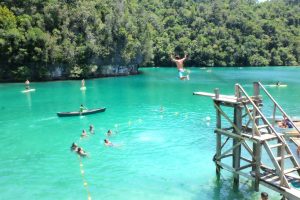 Aside from surfing, Siargao has established itself as one of the top tourism magnets in the country with its pristine beaches, islands and natural attractions, such as the one we recently visited – Sugba Lagoon in Caub, municipality of Del Carmen.
Located right smack in the middle the second biggest mangrove system in the Philippines, Sugba Lagoon has an estimated area of 87 hectares. It got its name from how it appeared to early visitors when it was covered with fog, thinking it was smoke from locals who were grilling meat. Sugba is to grill or roast in Bisaya.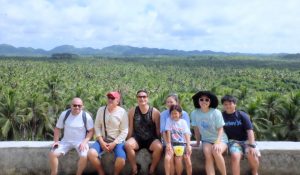 To get there, we traveled from General Luna to the port in Del Carmen around 45 minutes by land, and took another 30 minute motorized boat ride.
Sugba welcomed us with its fortress-like large limestone islets. We were then ushered to a 2-storey building manned by the local government to house visitors and provide as a jump off point to explore the lagoon by kayak, paddle board or swimming. It also has a diving board for the more adventurous visitors.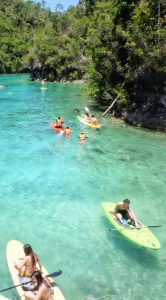 Sugba is certainly one of Siargao's treasured gems. With the local government's drive in keeping the island plastic-free, we can surely say that we enjoy Sugba and the rest of the island for a much longer time.