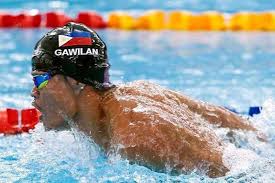 Davao City – A multi-awarded woodpusher, a Paralympic tanker and a world class dancesport athlete will usher this year's major honors as the So Kim Cheng Sports Awards night reels off reels off its 25th edition tonight, 6 p.m. at the posh Apo View Hotel Grand Ballroom.
Woodpusher John Marvin Miciano and tanker Ernie Gawilan will hoist this year's Male Athlete of the Year honors while Jeanette Ortiz emerged as the Female Athlete of the Year award in the city's longest running sports award giving ceremonies presented by the Davao City Sports Council Incorporated and the So Kim Cheng Sports Foundation Incorporated.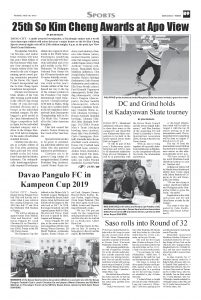 Miciano was chosen as Male Athlete of the Year after winning a gold medal in the ASEAN Age Group Under 20 year-old team standard division and a bronze in the individual standard category. He also bagged a gold medal in the Open International de Sitges competition held in Spain for the individual standard category and a silver in the Bruges Masters 2018 held in Belgium for the under-18 individual standard division.
Gawilan was also chosen as co-Male Athlete of the Year after garnering three gold and two silver medals in the 3rd Asian Para Games held in Jakarta, Indonesia. The orthopedically handicapped/physically impaired Paralympic athlete also capped a silver medal in the World Series Paralympics Qualifying event in the male 400 freestyle individual and a two gold medals in the PSC-Philspada 7th Philippine National Para Games for the 100-meter freestyle and 50-meter butterfly events.
The graceful Ortiz who was voted as this year's Female Athlete of the Year danced her way to the top of the winners podium in the President Cup Super International Open Dancesports Championships 2018 held in Shatin, Hong Kong and a golden finish in the 6th Sagadance International Open Dancesports Championship held in Ho Chi Minh City, Vietnam all in the Latin-American discipline.
That feat earned her mentor Denise Bunayog the Coach of the Year honors.
Special awards are also to be given to outstanding individual athletes and teams who also garnered impressive performances.
Citations are to be given to Craig Andrei Gimongala (archery), Kristine Madeline Ibag (archery), Arnold Stoney Rojas (archery coach citation), Glennon John Malisa (arnis), Jezebel Morcillo (arnis), John Carl Arangoso (arnis), Adelfa Sagne (arnis), Mark Anthony Casenas (athletics), Shairadhell Maye Matillosa (athletics), Clou Joseph Bulac (badminton), Jennifer Helyin Saladaga (badminton) Carlo Fuerzas (badminton coach citation), Ella Grace Moulic (chess), Ferd Kinneth Tuganayon (dancesports), Rodel Handug (dancesports), Gavin Facci Tangara (dancesports), Reyben Semilla (dancesports), Alberto Gorgonio (duckpin bowling), Danielle Shane Libres (duckpin bowling), Homer Amsirabi (duckpin bowling), Johanna Claudia Libres (duckpin bowling), DACIDBA Homer Men's Team (duckpin bowling team citation), Resty dela Cruz (football), Cielo Camangyan (football), Rachelle delos Reyes (football coach citation), Davao City Football team (football team citation), Aldren Solon (karatedo), Atsuko Kaiyel Tan (karatedo), Sofia Agullo (karatedo), Ian Carlos Pascual (karatedo), Kyzzhia Paulin Navarro (karatedo), University of Mindanao (karatedo team citation), Tristan Lou Galanto (motocross), Levi Galanto (motocross), Rollynjie Gimeno (muay thai), Evangeline Gamao (philspada/chess), James Infiesto (philspada/chess citation), Roscoe Hans Rivero (rugby), Diana Cosare (rugby), Angelie Krista Hifume (rugby), Davao Young Lady Durians (rugby team citation), Blessie Kate delos Santos (rugby coach citation), Davao City Sepak Takraw team (sepak takraw team citation), Grendel Ilogon (sepak takraw coach citation), Herzel Miles Abendan (table tennis), Christopher James Young (tenpin bowling) Crystal Christine Chavez (tenpin bowling), Manuel Nierra (tenpin bowling), Constancio Bernas (tenpin bowling), Dux Euan Yambao (volleyball), Takako Fujimoto (volleyball), Davao Volleyball Association Inc. (volleyball coach citation), Geoff Bustamante (wushu) and Jahaziel Care Barbero (wushu).